Duncan and Prasse's Veterinary Laboratory Medicine: Clinical Pathology, 5th Edition
ISBN: 978-0-8138-2014-9
524 pages
July 2011, Wiley-Blackwell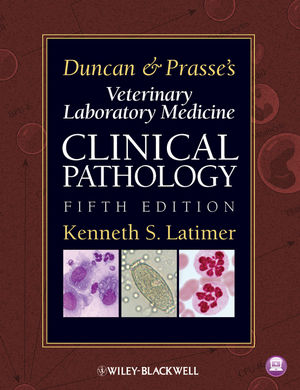 Now in full color throughout,
Duncan and Prasse's Veterinary Laboratory Medicine: Clinical Pathology, Fifth Edition
offers a comprehensive overview of hematology, hemostasis, clinical chemistry, urinalysis, cytology, and reference intervals in a highly accessible outline format. With information on all major domestic species, the text is designed for the reader to quickly find answers to clinical questions. Taking a problem-solving approach to the interpretation of laboratory data, this book includes clinical cases to illustrate the concepts of laboratory data interpretation, with tables and key words to aid readers in locating and applying information.
The fifth edition has been fully revised to reflect the latest knowledge, diagnostic methods, and practices in veterinary laboratory medicine.   A companion website provides the images in PowerPoint and references linked to PubMed at www.wiley.com/go/latimer.  Duncan and Prasse's Veterinary Laboratory Medicine is an excellent quick reference for practicing veterinarians, veterinary students, clinical interns and residents, and pathology residents.
See More
Contributing Authors.
Preface.
Acknowledgments.
Chapter 1. Erythrocytes.
Chapter 2. Leukocytes.
Chapter 3. Hematopoietic Neoplasia.
Chapter 4. Hemostasis.
Chapter 5. Water, Electrolytes, and Acid Base.
Chapter 6. Proteins, Lipids, and Carbohydrates.
Chapter 7. Liver.
Chapter 8. Digestive System.
Chapter 9. Urinary System.
Chapter 10. Muscle.
Chapter 11. Endocrine System.
Chapter 12. Cytology.
Chapter 13. Generating and Interpreting Test Results: Test Validity, Quality Control, Reference Values, and Basic Epidemiology.
Case Studies.
Index.
See More
Kenneth S. Latimer, DVM, PhD, Dipl. ACVP, is a veterinary clinical pathologist at Covance Laboratories, Inc.   in Vienna, Virginia and Professor Emeritus in the Department of Pathology at the University of Georgia College of Veterinary Medicine in   Athens, Georgia.  He has over 32 years of experience in the specialty of veterinary clinical pathology in academic, research, private practice, and industrial settings.
See More
A new companion website provides all the images from the book in PowerPoint and references linked to PubMed. 
Additions include newer diagnostic methods, new knowledge such as C-reactions that are just beginning to enter the mainstream, and an increased focus on the use of controls in laboratory testing and quality assurance
Updated throughout to reflect increased changes in procuring and interpreting laboratory results as diagnostic testing becomes more machine-based
Now in full color, where the previous edition relied heavily on color plate sections with very small images
See More
Offers an introduction to veterinary clinical pathology in a user-friendly outline format, with the unique responses of dogs, cats, cattle, and horses addressed within each chapter
Designed to enable the reader to quickly find solutions to clinical problems
Provides practical guidance on interpreting laboratory data, with a case-based approach to put the concepts described in context
Updated throughout to reflect advances in knowledge and diagnostic methods, as well as changing practices in veterinary laboratory medicine
Now in full color throughout with many photomicrographs
Includes access to a companion website providing images available for download into PowerPoint and references linked to PubMed
See More
"The book is modestly priced and is of substantial value to veterinary students, interns, residents, and clinicians as well as those who specialize in clinical pathology."  (Journal of The American Veterinary Medical Association, 15 March 2013)
"In this light, Duncan & Prasse's Veterinary Laboratory Medicine meets and exceeds expectations by providing a comprehensive, but accessible text. This title is included on the most recent ACVP reading list, and, as such, should be considered by all veterinary pathology residents as required."  (Veterinary Clinical Pathology, 4 June 2013) 
"This text is comprehensive for the domesticated mammalian species, and provides an extremely valuable addition to the texts available for avian clinical pathology." (Veterinary Record, 25 February 2012)
"This is surely a book which will prove invaluable throughout your career." (Tomorrow's Vets, 1 January 2012)
"Links to a companion website provide full reference to all downloadable details in a highly recommended guide for any vet collection." (The Midwest Book Review, 1 November 2011)
See More
Instructors Resources
Request a print evaluation copy
Contact us

See More
See Less
Buy Both and Save 25%!
Duncan and Prasse's Veterinary Laboratory Medicine: Clinical Pathology, 5th Edition (US $85.99)
-and- Practical Veterinary Urinalysis (US $67.99)
Total List Price: US $153.98
Discounted Price: US $115.48 (Save: US $38.50)
Cannot be combined with any other offers. Learn more.