Planting the Future: Developing an Agriculture that Sustains Land and Community
ISBN: 978-0-8138-2072-9
276 pages
May 1999, Wiley-Blackwell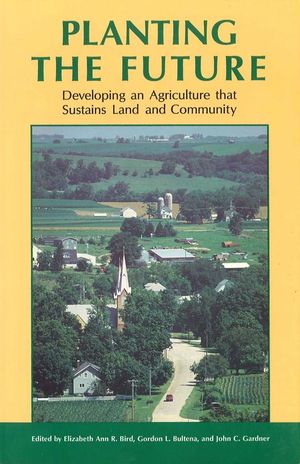 Synthesizes results of the "Sustainable Agriculture Initiative," a "systematic socioeconomic comparison of sustainable and conventional farming" sponsored by the Northwest Area Foundation and conducted in a five-state area.
See More
Foreword (Karl N. Stauber).
Executive Summary.
Acknowledgements.
Contributors.
About the Northwest Area Foundation (NWAF) and the A Center for Rural Affairs (CRA)..
Part I: Critical Choices for the Future.
1. The Promise of Sustainable Agriculture.
1. The Promise of Sustainable Agriculture.
2. An Agricultural Geography of the Northwest Area..
Part II: Sustainable Farming, Sustainable Communities.
3. What is Sustainable Agriculture?.
4. Impact of Sustainable Farming on the Structure of American Agriculture.
5. Farm Labor and Management.
6. Economic Position and Performance of Sustainable Farms.
7. Community Trade Patterns of Conventional and Sustainable Farmers.
8. Sustainable Agriculture: A Better Quality of Life?.
9. Adoption of Sustainable Agriculture..
Part III: Lessons From Alternative Approaches to Agricultural Research.
10. Use of Participatory Research in Agriculture.
11. Case Studies sand Decision Cases.
12. Using Ecological Methods in Agriculture.
13. Geographic Information Systems (GIS).
14. Overcoming Barriers: Reflections on Cooperative research..
Part IV: Future Research Needs and Policy Issues/Recommendations.
15. Future Research Needs.
16. Policy Issue sand Recommendations.
Background for Policymaking.
Research and Extension Policy Issues.
Appendix A. Study Methods.
Appendix B. Organizations and grants.
References.
See More