Advances in Food Diagnostics
ISBN: 978-0-8138-2221-1
Hardcover
384 pages
May 2007, Wiley-Blackwell
US $249.95

Add to Cart
This price is valid for United States. Change location to view local pricing and availability.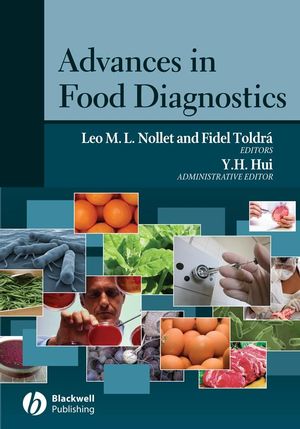 Other Available Formats:
E-book
Contributors.
Preface.
1. Assuring Safety and Quality along the Food Chain (Gerhard Schiefer).
2. Methodologies for Improved Quality Control Assessment of Food Products (Manuel A. Coimbra, Sílvia M. Rocha, and António S. Barros).
3. Application of Microwaves for On-line Quality Assessment (Ruth De los Reyes, Marta Castro-Giráldez, Pedro Fito, and Elías De los Reyes).
4. Ultrasounds for Quality Assurance (Bosen Zhao, Otman A. Basir, and Gauri S. Mittal).
5. NMR for Food Quality and Traceability (Raffaele Sacchi and Livio Paolillo).
6. Electronic Nose for Quality and Safety Control (Naresh Magan and Natasha Sahgal).
7. Rapid Microbiological Methods in Food Diagnostics (Daniel Y. C. Fung).
8. Molecular Technologies for Detecting and Characterizing Pathogens (Geraldine Duffy and Terese Catarame).
9. DNA-Based Detection of GM Ingredients (Alexandra Ehlert, Francisco Moreano, Ulrich Busch, and Karl-Heinz Engel).
10. Protein-Based Detection of GM Ingredients (A. Rotthier, M. Eeckhout, N. Gryson, K. Dewettinck, and K. Messens).
11. Immunodiagnostic Technology and Its Applications (Didier Levieux).
12. Rapid Liquid Chromatographic Techniques for Detection of Key (Bio)Chemical Markers (M-Concepción Aristoy, Milagro Reig, and Fidel Toldrá).
13. Sampling Procedures with Special Focus on Automatization (K. K. Kleeberg, D. Dobberstein, N. Hinrichsen, A. Müller, P. Weber, and H. Steinhart).
14. Data Processing (Riccardo Leardi).
15. Data Handling (Philippe Girard, Sofi ane Lariani, and Sébastien Populaire).
16. The Market for Diagnostic Devices in the Food Industry (Hans Hoogland and Huub Lelieveld).
Index.