Farmers for the Future
ISBN: 978-0-8138-2383-6
183 pages
January 1991, Wiley-Blackwell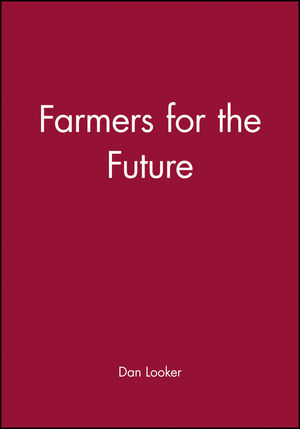 Farmers for the Future is the first book to show with real-life examples that it's still possible for young people to start farming in rural America.
See More
Acknowledgments.
Introduction.
Roots of Decline, Reasons for Renewal.
1 Boom and Bust: A Sobering Background for Today's Young Farmers.
2 The Treadmill of Technology: Beginners Have to Run Faster to Catch Up.
3 Rural Boardwalk: How Shared Monopoly Threatens Young Farmers.
4 A Stingy Uncle Sam: Of Billions Spent on Farming, Little Goes to Beginners.
5 Why Support Beginning Farmers? The Public and Small Towns Have a Stake.
What's There to Help Young Farmers.
6 Matchmaker, Matchmaker: New Links Between Older and Younger Farmers.
7 Federal Help: The Promise of Beginning Farmer Down Payment Loans.
8 State "Aggie Bond" Programs: Tax Breaks for Agricultural Development.
9 Banks: A Good One Can Keep You From Getting Too Much Debt.
10 The Farm Credit System: A Farmer-owned Lender Revives Help for Beginners.
11 Apprenticeships: Working for Experience More Than for Money.
Farmers Helping Themselves.
12 Recruiting: How One Visionary Farm Family Sought a Successor.
13 Sharing Opportunity: How One Farmer Helps Many.
14 Working into Ownership: A Partnership Passes Down a Dairy Farm.
15 Land Seekers: How One Couple's Persistence Paid Off.
16 Buy/Sell Agreements: Ways to Transfer Farm Ownership.
17 Technique, not Technology: Skill and Intelligence Can Compete with Money.
18 A Paradox for Family Farms: Cooperate to Stay Independent.
Conclusion: Lessons from Resourceful Pioneers.
Appendix: Finding More Help and Ideas.
See More
Dan Looker has written about agriculture for over two decades, beginning during the agricultural boom of the 1970s. At the Lincoln Journal Star, he wrote about the failure of investment schemes to grow irrigated corn in Nebraska's fragile Sandhills. At the Des Moines Register, Looker covered the farm depression of the 1980s, the loss of young farmers during that period, and the struggles between small family-run hog farms and large hog-producing agribusiness companies. Currently the business editor for Successful Farming magazine, Looker, who lives in Des Moines, has received several national writing awards for his work. During 1994-95 he served as president of the National Association of Agricultural Journalists.
See More