Complementary and Alternative Veterinary Medicine Considered
ISBN: 978-0-8138-2616-5
252 pages
November 2003, Wiley-Blackwell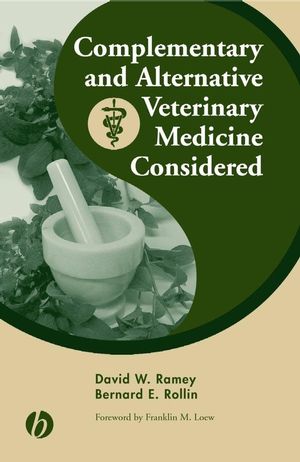 Complementary and Alternative Veterinary Medicine Considered
is a book that belongs in your veterinary library. If you are a veterinarian wondering if you should incorporate complementary and alternative veterinary medicine (CAVM) into your practice, if you have recently hired an associate eager to try such things as acupuncture or homeopathy, or if you have clients asking you about chiropractic, herbal, or magnetic field therapy for their pets, you'll want to understand the history, science and ethics behind such therapies.
In its 2001 Guidelines for Complementary and Alternative Medicine, the American Veterinary Medical Association (AVMA) recognizes the growing interest in CAVM, and encourages the critical examination of these therapies using the scientific method. Following the AVMA's lead on this subject, Complementary and Alternative Veterinary Medicine Considered thoroughly examines a variety of CAVM therapies and asks important questions regarding alternative treatments. For example, is acupuncture effective in pain relief? What is homeopathy? What is the history behind chiropractic? What does the research say (and not say) about various CAVM modalities? And, just as importantly, what are the ethical and regulatory considerations concerning such therapies? This book has the answers to those questions and more.

Complementary and Alternative Veterinary Medicine Considered will help practicing veterinarians to make informed decisions about specific CAVM therapies. This text evaluates various prevalent therapies, and will give veterinarians the ethical and scientific bases they need to make sound decisions regarding CAVM therapies

Coverage includes but is not limited to:



Acupuncture and acupressure;

Energy medicine;

Manual therapy (chiropractic);

Manual therapy (massage);

Magnetic and electromagnetic therapy;

Laser and light therapy;

Homeopathy; and

Herbal therapy.
See More
Foreword, ix
Acknowledgments, xi
Introduction, xiii
1. The Braid of the Alternative Medicine Movement, 3
2. Historical Aspects of Some CAVM Therapies, 17
3. Science and Medical Therapy, 55
4. Ethics, Evidence, and Medicine, 73
5. Placebos and Perceptions of Therapeutic Efficacy, 87
6. Hope, 107
7. Scientific Aspects of CAVM, 117
8. Untested Therapies and Medical Anarchism, 165
9. Regulatory Considerations, 179
Afterword, 197
Appendix, 203
Notes, 207
Index, 244
See More
David W. Ramey
, DVM has been in private equine practice since 1984. He is the author of numerous books and articles on equine health, including "alternative" veterinary medicine. He was selected by the AVMA as one of the nine-member task force on alternative and complementary veterinary medicine that conceived the current AVMA guidelines for the use of CAVM in veterinary practice.
Bernard E. Rollin, PhD is University Distinguished Professor at Colorado State University where he has a joint appointment as professor of philosophy and professor of physiology and biophysics. Dr. Rollin is the author of numerous books on veterinary ethics, pain management, and animal welfare.
See More
Learn more about