Handbook of Freshwater Fishery Biology, Volume Three, Life History data on Ichthyopercid and Percid Fishes of the United States and Canada
ISBN: 978-0-8138-2999-9
397 pages
February 1997, Wiley-Blackwell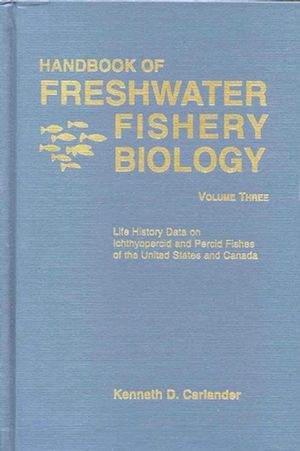 Compiles data and information on the management of important game fish, completing a trilogy of handbooks, the first two recognized as classics in the field.
See More
Preface vii
Introduction xi
Ch. 1 White Perch, Morone americana (Gmelin) 1
Ch. 2 White Bass, Morone chrysops (Rafinesque) 13
Ch. 3 Yellow Bass, Moronemississippiensis (Jordan and Eigenmann) 29
Ch. 4 Striped Bass, Morone saxatilis (Walbaum) 41
Ch. 5 Morone Hybrids 59
Ch. 6 Darters, Etheostominae 63
Ch. 7 Yellow Perch, Perca flavescens (Mitchill) 125
Ch. 8 Sauger, Stizostedion canadense (Smith) 181
Ch. 9 Walleye, Stizostedion vitreum (Mitchill) 205
Citations 295
Author Index 381
See More
Kenneth D. Carlander was Charles F. Curtiss Distinguished Professor Agriculture, Professor of Fisheries, Dept. of Animal Ecology at Iowa State University. Served as President of the Iowa Academy of Science and the American Fisheries Society and was a U.S. Representative, International Association of Theoretical and Applied Limnology. He served as a consultant for the Ford Foundation Alexandria University, in Egypt in 1056-66.
See More