Unlikely Victory: How General Electric Succeeded in the Chemical Industry
ISBN: 978-0-8169-0819-6
219 pages
September 2000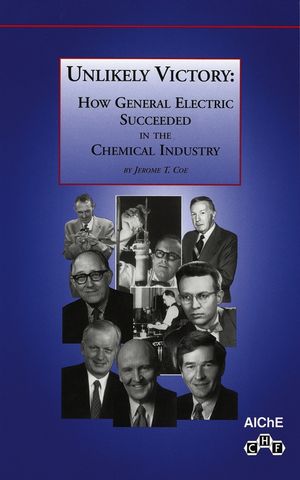 Many companies that stray too far from their core business fail. So how is it that General Electric, a major electrical manufacturing company, ended up as one of the top U.S. chemical producers—with 1998 sales of $6.6 billion? In Unlikely Victory, Jerome T. Coe, a retired 40-year career employee with General Electric, who spent more than 20 years as a manager of the company's chemical businesses, suggests that it was a combination of necessity, forward-thinking of the engineers, and managers wise enough to give them breathing room. "Much of what they did (then) was counter to the prevailing GE culture," he writes. "Today, it has become the corporate culture." The book tells the whole story of this successful business model, from the early years of GE chemistry through the company's successes with silicones, synthetic diamond, Lexan polycarbonate plastic, and other high-performance thermoplastics. It also profiles four scientists and five managers—including former CEO John F. Welch, Jr., a chemical engineer and a product of the GE plastic business—who made a significant difference in the company's chemical success. The book is amply illustrated with photographs of the people, products, and plants that contributed to one of America's most unusual corporate success stories.
See More
Preface.
Acknowledgments.
Chapter 1. What's General Electric Doing in the Chemical Business?
Chapter 2. Early Years of GE Chemistry 1900-1948.
Electrical Insulation; GE Forms a Chemical Division.
Chapter 3. GE Silicones: 1940-1964.
Forms Shaky Start to Successful Business.
Chapter 4. Loctite.
An Invention that Got Away.
Chapter 5. Synthetic Diamond.
GE Break-Through Caps Two Centuries of Research.
Chapter 6. Lexan Polycarbonate: 1953-1968.
The "Unbreakable" Thermoplastic.
Chapter 7. Noryl Thermoplastic: 1956-1968.
Victory Snatched from Jaws of Defeat.
Chapter 8. GE Engineering Plastics: 1968-1987.
Headlong Growth to World Leadership.
Chapter 9. Growth by Means of a Major Acquisition: 1988-1991.
ABS Plastics Up for Bid; A New Polycarbonate Process.
Chapter 10. Laminates and Insulating Materials.
GE Core-businesses Decline in Importance.
Chapter 11. GE Silicones: 1965-1998.
Sealants Leadership; Word Participation.
Chapter 12. GE Engineering Plastics: 1992-1998.
After Recession, Growth Resumes.
Chapter 13. People Make the Difference.
Four Scientist: Eugene G. Rochow, H. Tracy Hill and the GE Diamond Research Team, Daniel W. Fox, Allan S. Hay.
Five Managers: Abraham L. Marshall, Charles E. Reed, John F. Wells, Jr., Glen H. Hiner, Gary L. Rogers.
Chapter 14. Summation.
How Big an Achievement? How Attained? Nine Strategies.
Glossary.
A. Thermoplastic Polymers, Compounds, and Blends.
B. Trade-names, Companies, and Chemical Terms.
C. GE Organization Notes.
Chapter References.
Names Index.
Subject Index.
See More