Debugging and Performance Tuning for Parallel Computing Systems
ISBN: 978-0-8186-7412-9
Hardcover
447 pages
August 1996, Wiley-IEEE Computer Society Press
US $81.95

Add to Cart
This price is valid for United States. Change location to view local pricing and availability.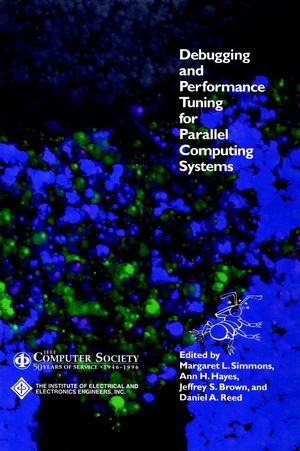 1. Performance and Debugging Tools: A Research and Development Checkpoint.

2. Tools: A Research Point of View.

Integrating Compilation and Performance Analysis for Data-Parallel Programs (Vikram S. Adve).

Integrating A Debugger and Performance Tool for Steering (Barton P. Miller).

Visualization, Debugging, and Performance in PVM (G.A. Geist).

Program Analysis and Tuning Tools for a Parallel Object Oriented Language: An Experiment with the TAU System (Dennis Gannon).

Race Detection -
Ten Years Later (C.E. McDowell).

Debugging and Performance Analysis Tools (Joan M. Francioni).

3. Tools: A Vendor Point of View.

A Scalable Debugger for Massively Parallel Message-Passing Programs (Rich Title).

A Building Block Approach to Parallel Tool Construction (Don Breazeal).

Visualizing Performance on Parallel Supercomputers (Marty Itzkowitz).

Multiple View of Parallel Application Execution (Ming C. Hao).

A Performance Tool for The CRAY T3D (Douglas M. Pase).

4. Tools: An Applications Point of View.

Issues of Running Codes on Very Large Parallel Processing Systems (Don Heller).

Opportunities and Tools for Highly Interactive Distributed and Parallel Computing (Karsten Schwan).

Methodologies for Developing Scientific Applications on the CRAY T3D (Nicholas A. Nystrom).

Tuning I/O Performance on the Paragon: Fun with Pablo and Norma (Carl Winstead).

Prospects of Solving Grand Challenge Problems (Rajan Gupta).

Portability and Performance Problems on Massively Parallel Supercomputers (David M. Beazley).

5. Updates and Working-Group Summaries.

Collaborative Efforts to Develop User-Oriented Parallel Tools (Cherri M. Pancake).

High-Performance Fortran Forum Status Report (Mary Zosel).

Summary of Working Group on Integrated Environments Vs. Toolkit (Diane T. Rover).

Working Group: Tools for Workstation Clusters (Robert Dilly).