Software
Software Engineering Risk Management: Finding Your Path through the Jungle, Version 1.0 for Windows
ISBN: 978-0-8186-7970-4
Software
July 1998, Wiley-IEEE Computer Society Press
US $414.00

Add to Cart
This price is valid for United States. Change location to view local pricing and availability.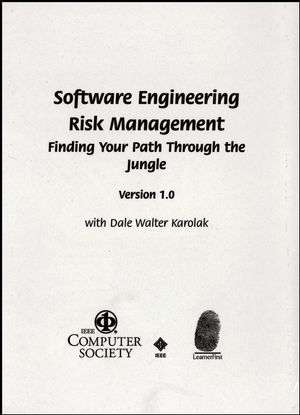 INTRODUCING SERIM: Software Engineering Risk Management.

Achieving the Best Results.

Tips for Application Use in a Team Setting.

Common Characteristics of Each Step.

How to Use the Application.

A Message from the Author.

About the Author.

About LearnerFirst.

About The IEEE Computer Society.

INSTALLING SERIM.

UNINSTALLING SERIM.

STARTING SERIM.

USING SERIM: The Command Structure.

The Title Bar.

The Top Toolbar.

FILE Commands.

EDIT Commands.

STEP Command.

INTRO Command.

MAIN Command.

PLAN Command.

WINDOW Command.

HELP Command.

The Main Screen.

The Bottom Toolbar.

Scroll Bars.

EXPLORING SERIM: Application Contents.

Project Description.

Project Assessment.

Analytical Perspectives.

Action Plans.

SUPPORTING SERIM: Getting Help.

Smart Help System.

LearnerFirst E-mail Support.

SERIM Customers' Private Web Site.

WORKING WITH SERIM: Examples.

Example 1: Satellite Software Project.

Example 2: PC Project.

Example 3: Embedded Project.

LEARNING ABOUT SERIM: Underlying Principles.

The Problem.

The Industrial Viewpoint.

The Practitioner Viewpoint.

The Example.

What About Tools?

Territories, Maps, and Bridges.

Just-In-Time Philosophy and Strategy,

Plan, Plan, Then Re-Plan.,

Identify Risks Early.

Develop in Parallel.

More On Software Risk Management and Just-In-Time.

RESEARCHING SERIM: References.

MORE ABOUT SERIM: Additional Readings.

INVESTIGATING SERIM: Equations.

CUSTOMIZING SERIM: Request Form.

APPENDIX A: List of SERIM Metric Questions.

APPENDIX B: SERIM Keystroke Combinations.