What You Need to Know about Project Management
ISBN: 978-0-85708-131-5
262 pages
February 2011, Capstone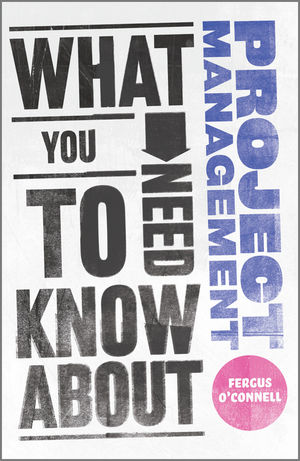 What You Need to Know About Project Management
Project Management is all about getting things done without spending too much or taking too long. But when you start hearing things like man-days, PSOs and stakeholders, it just makes it difficult to understand.
So what do you really need to know about project management?
Find out:
Why setting clear goals matters

How to estimate absolutely everything.

How to get things back on track after they've gone wrong

How to track big projects

Why work/life balance matters when you're running a big project
This clear and simple approach will mean you'll never panic when faced with a big project again.
Read More in the Want You Need to Know Series and Get to Speed on the Essentials… Fast. 
See More
Introduction 1
1 – Goal Setting 9
2 – Estimating 37
3 – Supply and Demand 71
4 – Managing Risk 99
5 – Managing Expectations 131
6 – Tracking and Status Reporting 175
7 – Running Multiple Projects 207
8 – Having a Life 225
Acknowledgements 247
Index 249
See More
Fergus O'Connell is the founder of ETP (etpint.com), one of the world's leading programme and project management companies, and his experience covers projects around the world.
See More