John Adair's 100 Greatest Ideas for Amazing Creativity
ISBN: 978-0-85708-176-6
262 pages
August 2011, Capstone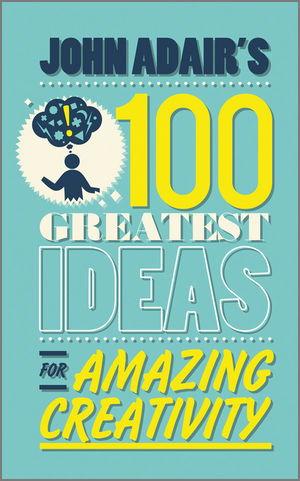 The final instalment in a new series offering straightforward, practical wisdom from a top business guru
John Adair's 100 Greatest Ideas for Amazing Creativity is the second title in a new series of titles from the noted business expert. Focused on concise, practical, and straightforward business wisdom, the series offers the kind of real-world insight that business leaders thrive on.
Short, punchy, and packed with real solutions, this book provides 100 proven and effective ideas for businesspeople in need of fresh new ideas, whether they work for a small firm or a Fortune 100 giant.
Proven, practical business wisdom for anyone who must create to succeed
The second book in a new series from renowned business authority John Adair
Quick bites of business wisdom for everyday business success
For effective tips on creative thinking from a proven expert, John Adair's 100 Greatest Ideas for Amazing Creativity offers everything you need to invent your own success in business.
See More
Preface xi
Part One: Find Your Own Creative Mind 1
Six Greatest Ideas for Creativity and Innovation 3
Ten Greatest Ideas for How Your Mind Works 15
Seven Greatest Ideas for Developing Your Mind 35
Part Two: Developing Creative Intuition 49
Ten Greatest Ideas for Opening Your Mind 51
Fourteen Greatest Ideas for Thinking Outside the Box 73
Part Three: How to Be More Creative 103
Seventeen Greatest Ideas for Creative Thinking Skills 105
Part Four: Creative Leadership 147
Nine Greatest Ideas for Your Role as Creative Leader 149
Twelve Greatest Ideas for Motivating the Creative Individual 171
Part Five: Turning Ideas into Improved Products and Services 201
Eight Greatest Ideas for Building Innovative Organization 203
Seven Greatest Ideas for Leading and Managing Innovation 221
Appendix 239
About John Adair 245
Index 247
See More
JOHN ADAIR is now a business guru who invented Action Centered Leadership, now one of the best known leadership models in the world. Organizations worldwide use it to develop their leadership capability and management skills.
See More