The Escape Manifesto: Quit Your Corporate Job. Do Something Different!
ISBN: 978-0-85708-362-3
280 pages
July 2013, Capstone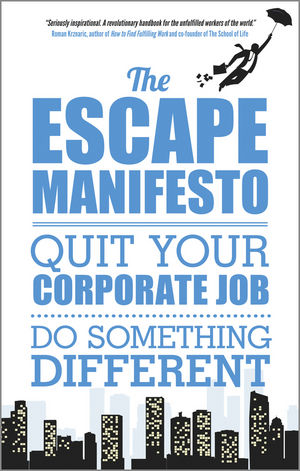 Rob, Dom and Mikey were fed up with the corporate treadmill. When they decided to change careers, they looked for a website to help them escape - except there wasn't one. So they started their own. Three years later and they have started a movement called Escape the City. Over 100,000 people have joined www.escapethecity.org in pursuit of exciting and unconventional careers. They are the first online start-up in the world to raise more than £500,000 in investment equity crowdfunding - and they did this entirely from their own membership.

The Escape Manifesto is the book that the guys wish they had read three years ago on the London Underground when they were commuting back and forth from their corporate cubicles. It is an inspirational call to action, packed with practical advice and encouragement. If you work in a corporate job that doesn't make you tick and you have ever wondered whether there is more to life, this book is for you. Step off the corporate treadmill - find an exciting job, start your own business, or go on a big adventure. Stop dreaming, start planning and do something different!

Reader Feedback
"Fab book- inspired me to plan my escape in Jan 2014 to India to clear my head after 29 years in social work then starting my own business. If not now, when?!" - Fionna
"My inspiration to take the step out of banking was driven by your book. I had been thinking about it for about a year but I kept putting off leaving the salaried job, that is until a friend left work and handed me a copy." - Selina
"The Escape Manifesto is a fantastic book. Page after page really hit the note with me..... I'm leaving my city job to take some time out travelling South America and see what happens!" - Scott
"The Manifesto has really helped me in my decision and continuing motivation to leave consulting. So, I'd like to say a massive thank you." - Victoria
"I'm so excited to have 'escaped'!! Thanks to the Escape Manifesto for giving me the motivation and push I needed to seek out opportunities I can be passionate about." - Australian Lawyer in London
"I'd like to let you know that your website and book! helped me 'escape' my job as management consultant in the Netherlands. I will be moving to Sri Lanka this November to work as general manager of a turtle conservation project, with my girlfriend. I found the job on your site. I'm so excited!" - Andre
"I lost track of the number of times I stopped to read out passages to my wife which expressed the exact same thoughts and emotions as I'd been feeling myself, it's always good to know you're not the first to have felt this way. I got a bit carried away with the highlighter and have built a to-do list off the back of it." - Graham
"Loving the Escape manifesto, I'm planning my escape from finance to conservation for August 2014." - Scott
"Your book is by my bed – making notes from the money chapter… hopefully I'll have news soon." - Victoria
"I'm reading your book right now. I'm halfway through but I couldn't resist contacting you before I finish it. It is the perfect reference for finding a new career path and escaping the status quo and pressure from society - very good book!" - Daniel
"Your book has made me feel so good about my situation and I now believe I'm doing all the right things to give my plans a good old go. Life is so short and you have nothing to lose. Nothing!!!" - Ed
"Even the shittiest day brightens up when I read your blog, your book or just the pics you post on Facebook." - Dagmar
"Well chaps, I did it! Quit my job in senior leadership in a blue chip corporate. Now what???? Halfway thru your book and I had the eureka moment - "I'll write a book too" so, after blasting out a proposal I now have a contract with a publishing house. My new life as a writer started 3 months ago, you guys gave me the nudge I needed. Thanks!" - Andrew
"I just wanted to say briefly THANK YOU! You wrote a great book! I found myself on many pages! THANKS for writing down your ideas and thoughts and for founding ESC! Just registered. All the best and good luck to you!" - Franziska
See More
The Escape Manifesto x
Introduction 1
PART ONE – PRE-ESCAPE 9
1 The Travelator 11
Why does this world not work for so many of us? 15
We are our jobs 16
The emperor's new clothes 17
Politics and bullshit 18
Autonomy, mastery, purpose 19
Warning – your health may suff er 22
Corporate creativity is an oxymoron 23
Institutions and leaders are failing us 25
Why do so many of us tread this path? 27
We have been taught to be cogs 28
We make semi-conscious decisions 29
The trap of the high achievers 31
We don't defi ne success for ourselves 33
Most careers advice is so awful 35
2 Thoughts and Blockers 37
Unhelpful thoughts 39
"I should be grateful for this job" 40
"I am safe in my current job" 41
"I might damage my career" 42
"I don't have the right network" 43
"I don't have the right skills" 44
"I need to have it all fi gured out" 46
Common blockers 49
We are looking for an instruction manual 50
We are infl uenced by other people 51
We love feeling comfortable 53
We hate feeling scared 54
We talk ourselves out of decisions 56
We are short of time and energy 58
We need money to survive 59
3 Gradual Epiphanies 63
Life epiphanies 65
Live life your way 66
Heed the call 68
Avoid living for the future 70
Realize nothing stays the same 71
Preempt the big scare or tragedy 73
Write your own obituary 74
Avoid empty "fi nd yourself" advice 75
Work epiphanies 77
Recognize the signs 78
Stop collecting qualifi cations 80
Look up the ladder 82
Accept changing is always hard 84
Choose a fi ght worth fi ghting 85
Decide that enough is enough 86
4 The Money Question 89
Think about your fi nances diff erently 93
The golden handcuff s 94
Money and happiness 95
The cycle of consumption 97
Escape begins with defi nition 100
Redefi ne personal fi nance 102
Manage your fi nances diff erently 103
Conduct a personal fi nancial audit 104
Crunch the numbers behind your escape 105
See your escape as a startup 107
Minimise costs 108
Save intelligently 110
Earn creatively 112
Avoid debt (or pay it down) 114
Build assets, question liabilities 115
Invest in yourself, not stuff 117
5 Evolution Not Revolution 121
Pre-decision 123
Fight the fear 124
Enforce limits, push back 126
Get better at listening 128
Stop reading, start acting 130
Post-decision 133
Don't quit just yet 134
Just start (but start small) 136
Test towards the way that works 138
Create a checklist 140
Cultivate partners-in-crime 141
Reframe the risk 143
Resign (carefully) 144
Don't expect a bunch of roses 146
PART TWO – POST-ESCAPE 151
6 Find an Exciting Job 153
Work is changing 155
Get clear on your decision criteria 157
Forget passions, what can you off er? 159
Get your head around "skills" 161
Hunt people not jobs 165
Tell a good story 167
Own your online presence 168
Hunt diff erently 169
Interview diff erently 172
7 Adventure 175
Escape the Matrix 177
Get perspective 178
Confront adversity 179
Plan, don't plan 180
Adventure diff erently 184
8 Start Your Own Business 191
Why start a business? 193
Scratch your own itch 195
Ideas are cheap, execution counts 198
Bin the business plan 199
Funding your startup 201
Make meaning 207
Defi ne success 209
Get going with what you've got 211
Prepare yourself for the ride 213
9 There is No Guidebook 217
Commit 219
Trust the process 220
Fight fear 222
Don't waste your time 224
Reject norms 226
Have an impact 228
Prepare for the mountain 230
Ignore cynics 232
Develop three traits 233
A Final Word 236
Footnotes 239
Recommended Escape Resources 243
Escapees To Take Inspiration From 248
About Escape the City 258
Acknowledgements 259
Index 260
See More
Escape The City is a community-focused business built around a simple concept: that there is more to life than doing unfulfilling work in big corporate companies. The online platform is designed to help corporate professionals find exciting jobs, start their own businesses, and go on big adventures.
See More