We Are All Leaders: Leadership is Not a Position, It's a Mindset
ISBN: 978-0-85708-391-3
268 pages
January 2013, Capstone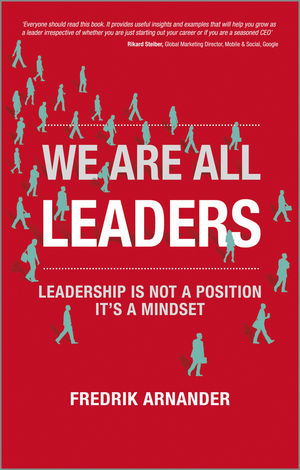 Leadership is not just for the execs in the corner office. It's time we all stepped up and developed the mind of a leader. In a time of rapid technological change and economic uncertainty, businesses that thrive will do so through empowering employees at all levels to take an active role in leading themselves and their organisations to success. It's time that we all, at every stage of our careers, started to think proactively, take responsibility and excel in work. This is the new face of leadership – consensual and nonhierarchical.
Scandinavian entrepreneur and business guru Fredrik Arnander outlines strategies and tools for transforming anyone into an effective leader. He offers a simple, straightforward, highly-practical approach to developing the leader mindset. And these aren't lessons from on high – they're clear and functional examples drawn from real life experiences. We Are All Leaders is all about empowerment – it will transform you into a confident, focused visionary…and can help you inspire that same passion in others.
A refreshingly simple and practical guide to leadership for anyone who wants to progress in their work
Based on the author's experience of running fast technology companies, creating agile and flexible organisations through leadership at all levels
Lessons are taught via easy to follow dialogue between a mentor and apprentice, exchanges which emphasise teamwork and reciprocal learning
"Everyone should read this book. It provides useful insights and examples that will help you grow as a leader irrespective of whether you are just starting out in your career or if you are a seasoned CEO"
Rikard Steiber, Global Marketing Director, Mobile & Social, Google
"Shows us how real-world leadership succeeds both in daily business as well as in our everyday lives. Well-researched, the book speaks in human terms, with smart examples, and clearly defines the partnership between team leadership and persoanl growth"
Scott Raskin, CEO, Mindjet
See More
Elevator Pitch vii
Leadership For a New Era ix
1. The Mindset Leader 1
How we all can be leaders
2. Entrepreneurs, Managers & Leaders 21
Your personal leadership style
3. The Real Me 33
Where it all starts, leading yourself
4. Always Show Up 55
You and your actions as a leader
5. Let Others Lead 103
Focus on the people around you
6. The Operating System 131
The culture that guides behaviour
7. Structure and Chaos 147
Organizing for leadership
8. Ideas Are Worthless 161
Creating new realities
9. Buddies With Brains 185
Recruiting with a philosophy
10. Omit Needless Words 197
Communicating, simply
The Leaderchart Test 215
Play Leadership Poker 237
More Resources You Will Like 239
References for Further Reading 241
Acknowledgements and Thanks 243
About Fredrik Arnander 245
Index 247
See More
Fredrik Arnander, the CEO of Keybroker Group is a Swedish technology entrepreneur and venture capitalist. He is the founder of several companies and organizations. He makes venture capital investments from his holding company Standard Ventures.
Fredrik started his career as a management consultant working for an international firm, helping established companies making the leap into the Internet age. He then joined Icon Medialab, a digital agency that fast grew to become an international group.
Fredrik graduated from the Stockholm School of Economics and also studied at Stanford University Graduate School of Business.
See More