Simple Thinking: How to remove complexity from life and work
ISBN: 978-0-85708-687-7
192 pages
August 2016, Capstone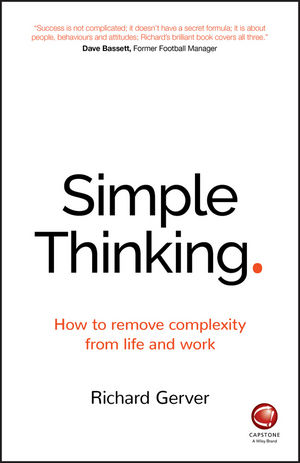 Simple behaviours that unclutter your mind and help you realise your true potential
Awaken your passion and tap into your inner greatness as you remove the metaphorical clutter from your life with Simple Thinking. You'll learn how to expand your mind and understand your true potential through the power of thinking simply, while stripping back the jargon and digging to the core of any obstacle in your way.
Let's be honest, life is full of unnecessary complexity and it's left most of us confused, angry and disenfranchised. This book will help you to remove the baggage, cut through the clutter and begin your smooth path to success.
Learn how to:
Live and act with resiliency, authenticity and passion
Learn to trust your instincts again and see the world through new eyes
Recalibrate your thoughts, behaviours and actions
Declutter your mind, streamline your day and be successful at life
Simple wisdom, simply shared, is personal development unplugged – and when you begin peeling back the layers to expose the heart of the problem, you become well-equipped to devise a simpler, yet more effective solution. Simple Thinking will help you in achieving this state of clarity and confidence.
See More
Introduction 1
1 The Child 9
2 Interested? 23
3 Problems? 39
4 Focus 57
5 Be Prepared 75
6 Belief 91
7 The Word 107
8 Together 125
9 Shatterproof 141
10 In the End 157
About the Author 175
Acknowledgements 177
Index 179
See More
July 29, 2016
Simple Thinking: How to remove complexity from life and work
Connect with Wiley Publicity
Don't grow up! New book shows a youthful mind is key to finding success
Simple Thinking is a straight forward guide to personal success that helps people strip back life's complexities and focus on what they want to achieve. As peer pressure, others' expectations and perceptions of success cloud our judgement, the book asks simple questions to encourage readers to identify their goals and define their own version of success.
Simple Thinking is written by Richard Gerver, a former teacher and now adviser on performance, change and leadership to some of the most high profile organisations in business, entertainment and sport. Using his unique insights, he demonstrates how many of the innate abilities observed in children are also prevalent in highly successful people.
Simple Thinking explores how much of our learning as adults, our fixation with logic and the trap of success, can often prove a disadvantage. It shows how behviours such as curiosity, creativity and collaboration, which come so naturally to children, can be encouraged to realise personal and professional goals.
This book will help readers:
Live and act with resiliency, authenticity and passion
Learn to trust their instincts and see the world through new eyes
Declutter their mind, streamline their day and be successful at life
Based on the experience of a primary school teacher, who went on to work with world leaders, Olympic coaches even meet the Dalai Lama, the book is packed with simple wisdom, personal stories and practical tips that make success accessible.
"This new book by the remarkable Richard Gerver packs in more of that rarest commodity, common sense, than most of us encounter in a lifetime. There is so much of real value here that just one reading is nothing like enough. I will be returning to it again and again, for reassurance as well as inspiration. It is a boon in waiting." (Duke of Devonshire)
See More