Body Language: Learn how to read others and communicate with confidence
ISBN: 978-0-85708-704-1
208 pages
July 2016, Capstone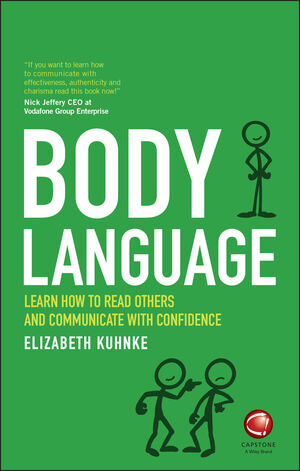 What does your body language say about you?
From strangers on the street, to your closest friends and family – even if you're not speaking, you're saying a lot with your body.
Body Language explores the way we use our bodies to communicate, the way we hold ourselves, the way we sit, stand, and point our hands, feet and eyes can all reveal how we are feeling in any given situation. This book explores the body language we use in a wide-range of business and personal-life scenarios, from delivering a presentation at work to how you should act on a first date!
Packed with images to clearly demonstrate each of the scenarios discussed, Body Language will help you understand the way others around you choose to communicate and also what you are saying with your own body. These valuable skills will improve your day to day communication, helping you to judge situations and understand how others around you are feeling.
Use Body Language to:
Harness the power of your own body language
Communicate confidently to all of those around you
Dip in and out of useful scenarios to find the best advice for you
Understand people's hidden emotions and learn what you are hiding yourself
Tackle those important life events, such as interviews, first dates, important meetings and more!
See More
Introduction 1
1 What Your Body Language Says About You 9
2 Listening 21
3 Building Rapport and Networking 33
4 Persuasion 41
5 Assertiveness 59
6 Meetings 77
7 Interviews 93
8 Negotiation 103
9 Sales 115
10 Managing Others 129
11 Attracting Others 147
12 Detecting Lies 159
13 Dealing with Conflict, Aggression, and Confrontation 171
14 Cross-Cultural Communication 181
A Quick Guide to Finding Out About Someone Without Asking 193
About the Author 199
Acknowledgements 201
See More
July 01, 2016
Body Language: Learn how to read others and communicate with confidence
Connect with Wiley Publicity
"Feeling hot, engaged, and passionate? Feeling low, aloof, and cool? You don't need to answer that question, your body says it all" writes Elizabth Kuhnke in Body Language.
An Executive Coach and specialist in communication and non-verbal behaviours, Kuhnke's book helps readers recognise the importance of body language and teaches them how to become top-notch communicators.
Body Language is structured around specific scenarios, making it easily applicable to daily life. Chapters tackle:
What your body language says about you

Attracting others

Detecting lies

Dealing with conflict, aggression & confrontation

Meetings, interviews and negotiation

Building rapport and networking
Even when we're not speaking, our posture, gestures and facial expressions convey our thoughts, feelings and intentions. This book clarifies unspoken signs and signals to enable people to communicate with confidence.
"By being aware of the messages your body sends out and practising specific gestures, postures, and expressions, you can create the impressions and convey the messages that you want to communicate," writes Kuhnke. "By observing and interpreting other people's actions, you have the upper hand when it comes to understanding their mindset and responding to their behaviour."
See More