Bull's-Eye! The Ultimate How-To Marketing and Sales Guide for CPAs
ISBN: 978-0-87051-871-3
464 pages
November 2016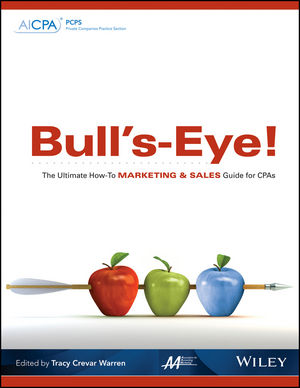 Sponsored by PCPS and the Association for Accounting Marketing
Whether your firm is getting back into the full swing of marketing and you are looking for some new ideas to jumpstart your sales efforts, or you are getting serious about business development for the first time, this book is designed for you. Its purpose is to inspire, teach, and provide you with practical insight to help build results-oriented marketing and sales programs in your organization.
Bull's-Eye is a collaboration of 37 of the industry's most successful marketing and sales minds. Collectively these gifted professionals have served as pioneering practitioners inside the profession, and as outside advisors and thought leaders for hundreds, even thousands of CPAs and their firms. They give you an insider's view of what it takes to build marketing initiatives that produce results. Through the principles, best practices and case studies shared in the book, you can see success doesn't happen by chance, but through careful planning, development, and implementation of well-designed processes, systems, and tools.
This compendium of marketing know-how shows you how to build your marketing team, implement marketing techniques that get you noticed, connect the dots between marketing and sales, measure results, and much, much more.
See More
Preface xix
Marketing is Cool Again!
Acknowledgments xx
About the Editor xxi
About the American Institute of Certified Public Accountants xxi
About the Association for Accounting Marketing xxi
Part i: Are You Ready?
Chapter 1 Does Your Firm Have the Right Culture for Success?
By Tracy Crevar Warren
Chapter 2 Marketing and Sales 101: A Primer for CPA Firms
By Tracy Crevar Warren and Jamie Trayner
Chapter 3 The Integration Imperative: Erasing Marketing and Business Development Silos
By Suzanne C. Lowe and Scott Jensen
Part ii: Getting Started
Chapter 4 The Marketing Plan: An Audit-Based Approach
By August J. Aquila, PhD
Chapter 5 Developing a Personal Marketing Plan
By Tracy Crevar Warren
Chapter 6 Marketing an Industry or Service Specialization
By Jean Marie Caragher
Chapter 7 Marketing for the Multi-Office Firm
By Katie Tolin
Chapter 8 Budgeting Techniques for Today's CPA Firm
By Art Kuesel
Part iii: Building the Team
Chapter 9 Your Leadership Makes Business Development Happen
By Melinda Guillemette
Chapter 10 A Buyer's Guide to Hiring a Marketing Professional
By Sally Glick
Chapter 11 The Firm Administrator as Marketing Director
By Diane Paoletta, CPA
Chapter 12 The Case for Utilizing a Sales Professional at Your Firm
By Christopher J. Perrino
Chapter 13 The Outside Consultant: More Than an Expert
By Cheryl Bascomb
Part iv: Marketing Techniques that Get You Noticed

Chapter 14 Why Should I Consider Advertising?
By Joe Walsh
Chapter 15 Successfully Branding Your Firm
By Allan S. Boress, CPA, CVA
Chapter 16 Getting Your Name in Lights With Public Relations
By Christine Heirlmaier Nelson
Chapter 17 Adding Social Media to Your Marketing Mix
By Joe Rotella
Chapter 18 Guide to an Effective CPA Firm Web Site
By D. Michelle Golden
Chapter 19 Effectively Using Direct Mail
By Marsha Leest
Chapter 20 Guidelines for Effective Brochures
By Amy M. Clutter
Chapter 21 Newsletters That Get Noticed
By Sally Glick
Chapter 22 Databases That Fuel Your Marketing Efforts
By Michelle Class
Chapter 23 Creating Opportunities Through Community Engagement
By Karen Love and Raissa Evans 265
Chapter 24 Referral Source Development: The Most Powerful, but Underutilized Business Development Tactic
By Eileen P. Monesson
Chapter 25 Utilizing Seminars to Build Your Practice
By Leisa Gill
Chapter 26 Building Opportunity Through Trade Shows
By Colleen Rudio
Part v: The Handoff—Connecting the Dots between Marketing and Sales
Chapter 27 From Opportunity to New Client
By Gale Crosley, CPA
Chapter 28 Creating Proposals That Win
By Dawn Wagenaar
Chapter 29 Win More New Business With Effective Sales Management
By Rick Solomon, CPA
Chapter 30 Cross-Serving Clients: Integrating Sales and Service Delivery
By Russ Molinar
Chapter 31 Sales Training: The Key to Better Service and Better Clients
By Rick Solomon, CPA
Part vi: Measuring Results, Communicating, and Rewarding Success
Chapter 32 In-House Marketing Communications That Foster Success
By Jill R. Lock
Chapter 33 Effective Employee Incentive Programs: How to Bring Out the Best in Your Firm
By Lisa A. Rozycki
Chapter 34 Marketing and Sales Metrics Matter: Measuring Results, Calculating Return on Investment
By Mitchell Reno and Tracy Crevar Warren
Part vii: Delivering and Measuring Client Service
Chapter 35 Gaining Client Feedback to Strengthen Your Practice
By Linda Slothower and Julie S. Tucek
Chapter 36 Developing a Service Excellence Plan for Clients
By Susan Wylie Lanfray
Chapter 37 Letting Go: Evaluating and Firing Clients
By Mark Koziel, CPA
See More
As founder of The Crevar Group, Tracy Crevar Warren is a sought-after consultant, facilitator, writer, and speaker. Her practical, results-oriented approach helps professional services firms build more profitable practices. She advises clients on practice growth, sales, and marketing. A pioneer in professional services marketing, she has been named as one of Accounting Today's Top 100 Most Influential People, and has been inducted into the Association for Accounting Marketing's Hall of Fame. A frequent speaker and facilitator for local, regional, national, and international groups, she inspires and empowers audiences to do more of the work they love.
See More