Becoming a Trusted Business Advisor: How to Add Value, Improve Client Loyalty, and Increase Profits
ISBN: 978-0-87051-902-4
400 pages
November 2016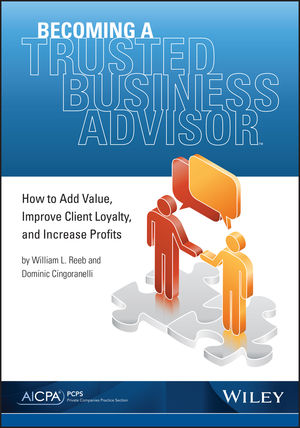 Being your clients' Most Trusted Business Advisor is not about selling and making pitches. It's really about showing an interest in your clients, asking the kind of questions that will help you learn what is important to them, and then listening. Based on the AICPA's successful Trusted Business Advisor Program and intended for CPAs who want to take their consulting practice to the next level, this workbook provides approaches to help you do just that.
By the time you finish working through the book's helpful forms and exercises you will be better able to:
have critical conversations with your clients
ask the right questions effectively
be a better listener
easily identify services that will add value to your clients' organizations
avoid administrative pitfalls throughout the process
effectively market your services, and
profitably grow your practice
Find out how to uncover critical client needs in ten minutes or less, how to help your clients prioritize their wish lists, and how to help them quantify the value of addressing each of the issues that keep them awake at night!
See More
Section 1: The CPA as Most Trusted Business Advisor
Chapter 1: Becoming Your Clients' Most Trusted Business Advisor 2
Chapter 2: The Changing Profession 12
Chapter 3: Making the Transition to Most Trusted Business Advisor: How and Why 39
Chapter 4: The General Contractor Model 59
Section 2: The MTBA Framework
Chapter 5: Developing Your Self Skills 72
Chapter 6: Refining the Most Important MTBA Tool: Communications 89
Chapter 7: Advanced Communication Skills: Working as a Facilitative Advisor Instead of as a Technical Expert 130
Chapter 8: Delivering Value-Added Services 146
Chapter 9: Advanced Advisory Skills and Practices: Conducting Effective Sales Calls With Clients and Prospects 167
Section 3: Administrative and Organizational Issues
Chapter 10: Billing and Engagement Considerations 223
Section 4: Identifying and Marketing Your Services
Chapter 11: Two Approaches to Providing Advisory and Consulting Services 256
Chapter 12: Marketing Your Firm and Your Services 283
Section 5: Putting It All Together
Chapter 13: Facilitating Your Clients' Meetings 344
Conclusion 377
Appendix A: Sample Timed Agenda 380
Appendix B: Food for Thought for CPAs Regarding Facilitating Client Meetings 382
See More
Bill Reeb has been consulting for over three decades to all sizes of businesses, from mom and pop operations to Fortune 100 companies. Prior to his life as a CPA, he worked for IBM in sales in the late 1970s. As an entrepreneur, he has founded seven small businesses, from retail to software development to advisory work. An award-winning public speaker, Reeb lectures throughout the United States. and Canada to thousands of executives and CPAs each year. As an award-winning author, he is internationally published, with numerous magazines, journals, newspapers, and books to his credit. Reed and his partner Dom Cingoranelli have also authored Securing the Future.
Dom Cingoranelli is a consultant whose engagements over the last three decades includes organizational development work for CPA firms and associations, as well as on construction projects for the Big Three auto makers; for regional, national, and international contractors; and for organizations in a variety of other industries. He has performed strategy consulting and planning; process improvement studies; management consulting, training, and development; team building; coaching; and group process facilitation for a variety of groups. He co-authored Securing the Future, as well as the AICPA PCPS Succession Resource Center and Trusted Business Advisor Resource Center. Cingoranelli has also written numerous articles and CPE offerings on executive recruiting, performance management, leadership, planning, and organizational culture. He speaks frequently on management and consulting topics throughout the country.
See More