Modeling of Casting, Welding, and Advanced Solidification Processes, Volume 12
ISBN: 978-0-87339-742-1
Hardcover
695 pages
June 2009
US $285.00

Add to Cart
This price is valid for United States. Change location to view local pricing and availability.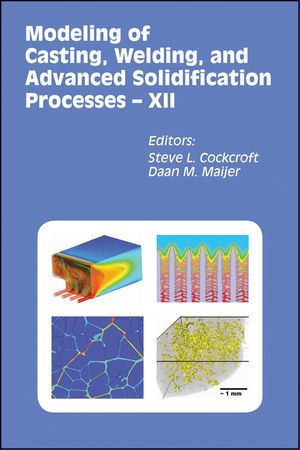 This is a Print-on-Demand title. It will be printed specifically to fill your order. Please allow an additional 5-6 days delivery time. The book is not returnable.
Casting.
Meeting Future Challenges in Shape Casting Process Simulation (Marc C. Schneider).
Cyclone-Based System for Cleaning Liquid Aluminum of Solid Inclusions: Numerical Study (Laurens Katgerman; Dmitry G. Eskin; Andrey N. Turchin)
Simulation Based Optimization Strategy for Balancing Quality and Productivity in Continuous Casting (Wilfried Schaefer; Goetz Hartmann; Erik Hepp).
Simulation of Semi-Solid Feed Stock Formation in Cooling Channel Rheocasting Process (Mahmoud Ahmadein; Emir Subasic; Matthias Bünck; Björn Pustal; Andreas Bührig-Polaczek).
From Conception to Mechanical Properties Optimization – Effect of the Microstructure and Defects on Thermomechanical Calculations During Casting and Heat Treatment (Gael Couturier; Jiri Kovarik; Alain Jacot; Josef Barta; Mark Samonds).
Mathematical Modeling of a Superlight Magnesium Slab During the Start-Up Phase of the Direct Chill Casting Process (Hai Hao; Shan Yao; Xingguo Zhang; Shuyan Shi; Junze Jin).
Modelling Oscillation Mark Formation and Slag Infiltration Through the Coupling of Multiple Physical Phenomena During Continuous Casting (Pavel E. Ramirez Lopez; Peter D. Lee; Kenneth C. Mills).
Modelling the Tilt-Casting Process for the Tranquil Filling of Titanium Alloy Turbine Blades (Hong Wang; Georgi Djambazov; Koulis A. Pericleous; Richard A. Harding; Michael Wickins).
New Insights into the Electro-Slag Remelting Process using Mathematical Modeling (Ashish D. Patel; Kanchan M. Kelkar).
Centrifugal Casting of Complex Geometries: Computational Modelling and Validation Experiments (Dmytro Shevchenko; Diane McBride; Nick Humphreys; Nick Croft;Paul Withey; Nick Green; Mark Cross).
Coupling / Multi-physics.
Coupling In-situ Observations and Microscale Modeling to Predict Pore and Fe-rich Intermetallic Formation during the Solidification of Al-Si-Cu-Fe Alloys (P. Lee; J. Wang; M. Li).
Bridging the Gap Between Manufacturing Reality and Design Assumptions: Chaining Manufacturing Analyses and Defects with Performance Testing (Adi Sholapurwalla; Sam Scott).
Modeling of Mechanical Contact Conditions in Casting (Jörg Klinkhammer; Jesper Thorborg).
Phase-Field Simulation of Equiaxed Solidification: A Homoenthalpic Approach to the Micro-Macro Problem (Bernd Böttger; Markus Apel; Janin Eiken; Philippe Schaffnit; Georg J. Schmitz; Ingo Steinbach).
On Modelling of Microstructure Formation, Local Mechanical Properties and Stress – Strain Development in Aluminium Castings (Ingvar L. Svensson; Salem Seifeddine; Jesper Hattel; Petr Kotas; Jesper Thorborg).
Explicit Coupled Thermo-Mechanical Finite-Element Model of Continuous Casting of Steel in Funnel Molds (Seid Koric; Lance Hibbeler; Brian G. Thomas).
Ultrasonic Technology Model Development and Applications to Casting Processes (Laurentiu Nastac).
A Unified Elasto-Viscoplastic Constitutive Model of Grey Cast Iron (Chunsheng Li; Richard K. Huff).
The Influence of the Morphology Evolution of Free-Floating Equiaxed Grains on the Macrosegregation In A 3.3-Ton Steel Ingot (Miha Zalonik; HervéCombeau).
Mould Taper Optimization for Continuous Casting Steels by Solidification Shrinkage Simulation (Shaowu Cai; Tongmin Wang; Jun Li; Jingjing Xu; Yanyan Du; Dawei Luo; Tingju Li; Junze Jin).
Modeling of Infiltration Casting of Cellular Magnesium Alloy (Hai Hao; Jie Cui; Shuyan Shi; Xingguo Zhang; Shan Yao; Junze Jin).
Numerical Simulation on Magnetic Penetrating Performance of Soft-Contact Eletromagnetic Casting Rectangular Mould for Duraluminium Alloys (Jun Li; Yanyan Du; Tongmin Wang; Jingjing Xu; Shaowu Cai; Jiachun Wang;Zhiqiang Cao; Tingju Li; Junze Jin).
Numerical Simulation of Thermal and Flow Fields in Induction Skull Melting Process (Tongmin Wang; Yanqing Su; Guanxia Xue; Jingjing Xu; Shaowu Cai; Jun Li;Zongning Chen; Jingjie Guo; Tingju Li; Junze Jin).
Modelling the Interaction of Particles with a Concave Solidifying Interface (Eliana M. Agaliotis; Mario R. Rosenberger; Alicia E. Ares; Carlos E. Schvezov).
Numerical Methods / Segregation.
Micro-Macrosegregation Prediction Based on Solidification Simulation for Continuous Casting of Ternary Bronze Alloys (Monika Grasser; Anton Ishmurzin; Florian Mayer; Menguai Wu;Andreas Ludwig; U. Hofmann; J. Riedle).
Seamless Simulation from Fluid Flow to Solidification Using New Moving Particle Semi-Implicit (MPS) Method (Naoya Hirata; Koichi Anzai).
Experimental Study of Contributions of Different Grain Structures to Macrosegregation in Aluminum Alloys (Dmitry G. Eskin; Laurens Katgerman).
Observation of the Segregation by Using Time-resolved X-ray Imaging (Hideyuki Yasuda; Yosuke Yamamoto; Noriaki Nakatsuka; Masato Yoshiya;Tomoya Nagira; Akira Sugiyama; Itsuo Ohnaka; Kentaro Uesugi; Keiji Umetani).
Effects of Solidification Kinetics and Liquid Density in Modeling of Macrosegregation In Castings (Miha Zalonik; HervéCombeau).
Simulation of Alloyed Cast Iron On Process and Material Scale: A Physics and Calphad Based Approach (Bjoern Pustal; H. Siebert; Emir Subasic; Bengt Hallstedt; Jochen M. Schneider;Andreas Buehrig-Polaczek).
Micro- and Macro-segregation of a Peritectic Au-Fe Alloy during Bridgman Solidification (Denis Favez; Michel Rappaz).
Study of Centerline Macrosegregation in Steel Continuous Casting with a Two-Phase Volume Averaging Approach (Florian Mayer; Menghuai Wu; Andreas Ludwig).
Casting Simulation for Robust Design of Process Parameters Using Quality Engineering Approach (Akihiko Kimatsuka; Itsuo Ohnaka; Yuriko Saito; Yasunori Kuroki).
Finite Element Thermomechanical Simulation of Steel Continuous Casting (Romain Forestier; Frédéric Costes; Olivier Jaouen; Michel Bellet).
Simplified Three-dimensional Macro Segregation Simulation Model and its Application to Directional Solidification of Sn-Bi Alloys (Tomoki Sawada; Katsunari Oikawa; Koichi Anzai).
Defect Formation.
Simulation of Deformation and Hot Tear Formation Using a Visco-Plastic Model with Damage (Charles A. Monroe; Christoph Beckermann; Joerg Klinkhammer).
A Feeding Flow Related Model for Modelling Shrinkage Defects (Zhian Xu; Ana Rosanete L. Reis; Rob Van Tol).
Prediction of Hot Tear Defects in Steel Castings Using a Damage Based Model (Zhiping Lin; Richard K. Huff; Charlie A. Monroe; Christoph Beckermann).
Modeling of Shrinkage Porosity Formation and its Validation (Jianzheng Guo; Ade Makinde; Bernard Bewlay).
A Model for Binder Gas Generation and Transport in Sand Cores and Molds (Andrei J. Starobin; Cyrill W. Hirt; D. Goettsch).
A 3D Granular Model of Equiaxed-Granular Solidification (A B. Phillion; J-L Desbiolles; M Rappaz).
Prediction of Casting Defects in High-Pressure Die Casting Processes by Using JSCAST (J. D. Zhu; H. Yokoyama; I. Ohnaka; T. Murakami; S. L. Cockcroft).
A Phase Field Model for a Geometrical Description of Micropores Constrained by a Solid Network (Milan Felberbaum; Alain Jacot).
Numerical Predictions of Gas Porosity in Industrial Casting Processes using Fully Coupled Mold-Filling and Solidification Simulation (Santhanu Jana; Juergen Jakumeit; Mohamed Y. Jouani).
Modeling of Porosity Size Distribution in A356 Tapered Cylinder Castings (L. Yao, E. Khajeh, S.L. Cockcroft, D.M. Maijer).
Modeling of Reoxidation Inclusion Formation in Steel Sand Casting (Antonio J. Melendez; Kent D. Carlson; Christoph Beckermann; Marc C. Schneider).
Fluid Flow.
Improvement of Mold Filling Simulation (Itsuo Ohnaka; A. Sugiyama; J. D. Zhu; F. Kinoshita).
Micro Droplet Behaviors of Molten Lead Free Solder Using Inkjet Printing Technique (Ming-Hsiu Tsai; Weng-Sing Hwang; Weng-Chung Sung; Hsin-Hung Chou).
Using the Calculated Froude Number for Quality Assessment of Casting Filling Methods (Carl Reilly; Nick Green; J. C. Gebelin; Mark Jolly).
Influence of the Gas Phase on Mold Filling for Sand Casting (Juergen Jakumeit; Kevin Goodheart; M. Albers).
Computational Methods for Mold Filling Simulation of Semi-Solid Alloys (Jean-François Hétu; Florin Ilinca).
Investigating Surface Entrainment Events using CFD for the Assessment of Casting Filling Methods (Carl Reilly; Mark Jolly; Nick Green).
Three-Dimensional Simulation of The Influence of Convection on Dendritic Solidification (Lang Yuan; Peter D. Lee; Georgi Djambazov; Koulis A. Pericleous).
Complex Free Surface Flows for Mould Filling Using Centrifugal Casting (Diane McBride; Nick Humphreys; Nick Croft; Nick R. Green; Mark Cross).
Diagnosis Parameter of Mold Filling Pattern of Molten Metal for the Casting System (Jun Ho Hong; Young Sim Choi; Ho Young Hwang; Jeong Kil Choi).
Micro and Macrostructure Formation.
An Inverse Growth Restriction Model for Predicting Solidified Grain Size (D H. StJohn; M A. Easton; Ma Qian).
Simulation of Solidification Grain Structures with a Multiple Diffusion Length Scales Model (Salem Mosbah; Michel Bellet; Charles-Andre Gandin).
Effects of Geometric Constraints on Alloy Solidification in Metal-Matrix Composites (Rui Shao; Kevin P. Trumble; Matthew J. Krane).
Modeling of Ferrite Growth in Compacted Graphite Iron (Mathias König; Ingvar L. Svensson; Magnus Wessén).
A Combined Experimental-Model Approach to Estimate the Solidification Macrostructures Formed During a Microgravity Experiment on Ti-Al Based Intermetallic Alloys (Shaun McFadden; David J. Browne).
Thermoelectric Effects on Alloy Solidification Microstructure (Andrew Kao; Koulis A. Pericleous; Mayur K. Patel; Vaughan R. Voller).
Modeling of Solutal Dendritic Growth in Three Dimensions (Shiyan Pan; Mingfang Zhu).
Using a Five-Phase Volume Averaging Approach to Model the Mixed Columnar-Equiaxed Solidification (Menghuai Wu; Andreas Ludwig).
Phase Field Modelling of Twinned Dendrite Growth (Mario A. Salgado; Jean-Luc Desbiolles; Michel Rappaz).
Numerical and Experimental Investigation of Dendritic Growth Texture Evolution in Mg-Al alloys with Hcp-Lattice Anisotropy (Janin Eiken; Gerald Klaus; D. Mirkovic; Ingo Steinbach;Andreas Bührig-Polaczek; R. Schmid-Fetzer).
Welding.
New Numerical Technologies for the Simulation of Arc Welding Processes (Michel Bellet; Makhlouf Hamide; Christel Pequet; Patrice Lasne).
Modelling the Development of Stresses During Single and Multipass Welding of a Ferritic Steel in an Instrumented Restraint Cracking Test (H.G. Fjær; R. Aune; Mohammed MHamdi; O.M. Akselsen).
Using Numerical Simulation to Predict the Distortion of Large Multi-Pass Welded Assemblies (Josef Tejc; Ji íKova ík; Václav Zedník; Adi Sholapurwalla; Madhu Nannapuraju;Harald Porzner; Frederick Boitout).
Predicting Homogeneity of WC-Based Metal Matrix Composites Deposited by Plasma Transferred Arc Welding (T.B. Wolfe; Hani Henein).
Phenomena in Solidification Modeling and Validation.
Microsegregation Modeling of Multiple Phase Transformations – Atomization of Al-Ni Alloys (Damien Tourret; Charles-Andre Gandin).
In-Situ Study on Dendritic Growth of Sn-Bi Alloys By Diffraction-Enhangced X-Ray Imaging (Tongmin Wang; Jingjing Xu; Wanxia Huang; Jun Li; Shaowu Cai; Tingju Li; Junze Jin).
Phase Field Modelling on Microsegregation During Solidification of An Al-Cu Binary Alloy (Qiang Du).
Phase Field Modeling of Equilibrium Shapes and Growth Morphologies in Al-Zn Alloys (Jonathan M. Friedli; Michel Rappaz; Auèle Mariaux; Frédéric Gonzales).
Solidification Path of Al-Fe-Mn-Si Aluminium Alloys (Jacques Lacaze; Luiz Eleno; Bo Sundman).
Modeling and in-Situ X-Ray Video Microscopy of Confined Equiaxed Grain Growth and Buoyant Motion in Al-Cu (P. Delaleau; R. H. Mathiesen; P. L. Schaffer; L. . Arnberg; C. . Beckermann).
Modelling of Macrosegregation in Multicomponent Aluminium Alloys (K. Ellingsen; A. L. Dons; M. MHamdi; D. Mortensen).
Mechanical Properties of Zinc – Aluminum Alloys Versus Structural and Thermal Parameters (Alicia E. Ares; Isaura P. Gatti; Sergio F. Gueijman; Carlos E. Schvezov).
Modeling Nucleation and Growth of Zinc Grains in Hot-Dip Galvanized Coatings (Aurèle Mariaux; Tom Van De Putte; Michel Rappaz).
Validation of a Porosity Nucleation Model by X-ray Tomography (Amaury Chabod; Yves Gaillard; Gérald Ogier; Valérie Bueucher).
Numerical and Experimental Characterization of a Cast Bell (Didier Linxe; Patrick Priot; Michel Stucky; Michel Elary; Jean-Marie Dracon; Luigi Bergamo).
Author Index.