Brain Teasers!: Over 180 Quick Activities and Worksheets That Make Kids Think
ISBN: 978-0-87628-123-9
288 pages
June 1994, Jossey-Bass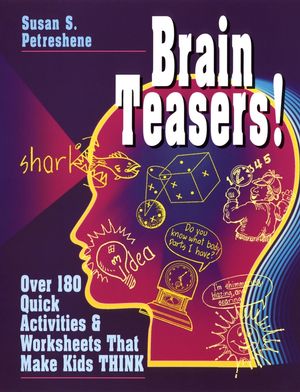 Nearly 200 "quickie" classroom activities and reproducible worksheets to develop the thinking, reasoning and memory skills of elementary students and help them master both basic and advanced concepts in math, language and writing. Ideal ways to get kids involved, vary instruction, fill spare minutes, introduce or reinforce specific skills/concepts, and assign as homework.
See More
About this resource.

Suggestion for using these activities most effectively.

THINKING AND REASONING ACTIVITIES.

Total group activities

CLASSIFICATION.

Find my secret category.

Throw one away.

A type of.

Jobs depend on jobs.

Library search.

MAKING QUICK DECISIONS.

Domesticated/wild animals.

Person/place/object.

Land/water/both.

Male/female/either.

Cities/countries.

LOGIC-PUTTING THE PIECES TOGETHER.

How many answers can you find?

Here's the answer-what was the question?

Analogies.

Proverbs.

Flowcharts.

Who/what am I?

MINI STORIES FOR SOLUTION.

What-would-you-do? Stories.

My friends are calling a classmate names.

How come he's always bossing me around?

Decisions, decisions.

He's cheating!

INDIVIDUAL OR PARTNER ACTIVITIES.

Four in a row.

Squiggle imagination.

Two by two strategy.

What's the sequence?

Objects with body parts.

How could you use a ____?

Unsuspected similarities.

MATH ACTIVITIES.

Total group activities.

Relationships and patterns.

Number line jump.

Pattern detective.

Rhythm with numbers.

PLACE VALUE.

Hide and seek.

Little differences are not so little.

ODD/EVEN.

What's in between?

CALENDAR.

Calendar puzzles.

COORDINATES AND GRAPHS.

Graph favorites.

Coordinate ghost.

I'm hiding.

Directions from a clock!

MONEY.

What's the total value?

GEOMETRY.

Analyze the alphabet.

3-D inside/outside challenge.

GREATER THAN/LESS THAN.

Comparing numbers.

Ask and answer.

PROBLEM SOLVING.

Spokes of sums.

Numbers in hiding.

Sum search.

So, what's the number?

Target number.

Break my code.

ESTIMATION.

How many words per page?

COMPUTATION.

Code challenge.

Find my value.

Palindromes.

COMPUTATION MAGIC TRICKS.

Magic 4.

Pick another number.

Abracadabra.

More hocus.

We're stuck on 11.

The 280 trick.

Instant sums.

142,857 again?

INDIVIDUAL OR PARTNER ACTIVITIES.

Sum 15 tic-tac-toe.

Circle sum.

LANGUAGE AND WRITING ACTIVITIES.

Total group activities.

Compound words.

Find my compound words.

Can you hear me?

Spelling.

Shifting letters.

Spell my word.

Don't say that vowel!

SYNONYMS/ANTONYMS.

Tired old words.

Synonyms with style.

VOCABULARY.

Guess my word.

Context clues.

The word keeps changing!

Animal specific vocabulary.

WORD DERIVATION.

So that's my stem!

PARTS OF SPEECH.

Noun pairs.

Adverbs in action.

Find me a partner.

Tell me how.

Two-way words.

ADD-ON STORIES.

You add the ending.

Who are you?

The sailing adventure.

Bottle on the beach.

The old black book.

A surprise visitor.

Lost in the woods.

New school.

The untraveled country road.

Tale of the deep mine shaft.

Individual or partner activities.

Partner rhyme challenge.

Look alikes.

Word connections.

Double consonant daze.

Word category expansion.

Categories with one-letter restriction.

Front and back categories.

One-letter magic.

Tic-tac-toe spelling.

Growing word boxes.

Anagrams.

Word subtraction.

Scrambled sentences

LISTENING AND REMEMBERING ACTIVITIES.

Total group activities.

Following oral directions.

Can you follow my directions?

Close your eyes.

Put your hands on your knees.

Mystery sentence magic.

Letter maze.

Two box teaser

MEMORY.

Repeat these numbers.

Expanding sentences.

Can you add to my sentence?
See More
Susan S. Petreshene, M.A. (California State University, Sonoma), served as an elementary classroom teacher for over 20 years in the public schools of Concord and Novato, California. She authored many articles in professional journals such as Instructor and also wrote six practical books for teachers, including Mind Joggers! (The Center for Applied Research in Education) and Teaching Reading Skills: Visual Auditory and Kinesthetic Activities (Zaner-Bloser), co-authored with Walter B. Barbe, Ph.D.
See More