Hands-On Physics Activities with Real-Life Applications: Easy-to-Use Labs and Demonstrations for Grades 8 - 12
ISBN: 978-0-87628-845-0
672 pages
March 1994, Jossey-Bass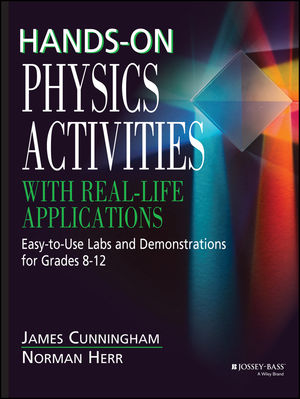 This comprehensive collection of nearly 200 investigations, demonstrations, mini-labs, and other activities uses everyday examples to make physics concepts easy to understand. For quick access, materials are organized into eight units covering Measurement, Motion, Force, Pressure, Energy & Momentum, Waves, Light, and Electromagnetism. Each lesson contains an introduction with common knowledge examples, reproducible pages for students, a "To the Teacher" information section, and a listing of additional applications students can relate to. Over 300 illustrations add interest and supplement instruction.
See More
About the Authors.

About the Resource.

UNIT ONE: MEASUREMENT.

Units.

Indirect Measurement.

Scaling.

UNIT TWO: MOTION.

Center of Mass.

Inertia.

Velocity and Acceleration.

Periodic Motion.

UNIT THREE: FORCE.

Force.

Buoyant Force.

Friction.

Torque.

UNIT FOUR: PRESSURE.

Air Pressure.

Vapor Pressure.

Fluid Pressure.

Fluids in Motion.

UNIT FIVE: ENERGY AND MOMENTUM.

Work and Power.

Potential and Kinetic Energy.

Momentum.

Machines.

UNIT SIX: WAVES.

Waves.

Sound.

Transmission of Sound.

Frequency and Wavelength of Sound.

Wave Properties of Sound.

UNIT SEVEN: LIGHT.

Reflection.

Refraction.

Interference and Diffraction.

Polarization.

Optics.

Color.

UNIT EIGHT: ELECTRICITY AND MAGNETISM.

Electrostatics.

Circuits.

Magnetism.

Electromagnetism.

Appendix.

Index of concepts to investigate..
See More
James Cunningham (Ph.D., Science Education, Syracuse University) is professor of science and computer education and Chair of the Department of Secondary Education at California State University, Northridge. Formerly Chair of the Department of Science and Mathematics in Washington state high schools, he is author of Teaching Metrics Simplified and co-author of BASIC for Teachers and Authoring Educational Software.

Norman Herr (Ph.D., University of California, Los Angeles) is associate professor of science and computer education at California State University, Northridge and served as Chair of the Science Department in a California High School. He has also worked as a chemist, community college science instructor, for the College Board, and has written many science education articles.
See More