Green Building: Project Planning and Cost Estimating, 3rd Edition
ISBN: 978-0-87629-261-7
Paperback
480 pages
November 2010
US $110.00

Add to Cart
This price is valid for United States. Change location to view local pricing and availability.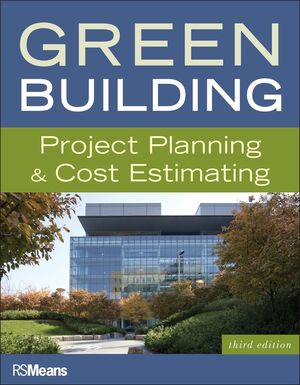 Other Available Formats:
E-book
November 15, 2010
GREEN BUILDING: PROJECT PLANNING AND COST ESTIMATING, 3E
Connect with Wiley Publicity
Hoboken, NJ, November 15, 2010, John Wiley & Sons Inc., - The first co-branded reference publication with RSMeans and Wiley, titled, Green Building: Project Planning & Cost Estimating, 3rd edition, has released and is publishing on November 17th! The Third Edition has been updated with the latest in green building technologies, design concepts, standards, and costs. The elements, case studies, and resources give practical guidance to contractors and building owners on green building, to include:
Green building approaches, materials, rating systems, standards, and guidelines
Energy efficiencies, implementing energy modeling tools
Designing and specifying, as well as commissioning, green building projects often-specified products and materials, as well as a sample spec
Goals and techniques for health, comfort, and productivity
Evaluating the cost versus value of green products over their life cycle
Low-cost green strategies and special economic incentives and funding
Building deconstruction and cost considerations
With a new chapter on commercial real estate, this reference is a one-stop resource for the latest in green building approaches and implementation.
"The release of this reference publication is a valuable addition to the green conversation," said Andrea Sillah, Product Manager, RSMeans Books. "We are pleased to have teamed up with Wiley for the first of many exciting publications."
"We're excited by the opportunities to collaborate with RSMeans in a comprehensive publishing partnership, and Green Building provides a terrific kickoff to our new relationship. This is the kind of essential reference that we are committed to providing to the industry" said Amanda L. Miller, Vice President and Publisher, Wiley.
About John Wiley & Sons, Inc.
Founded in 1807, John Wiley & Sons, Inc. has been a valued source of information and understanding for more than 200 years, helping people around the world meet their needs and fulfill their aspirations. Wiley and its acquired companies have published the works of more than 400 Nobel laureates in all categories: Literature, Economics, Physiology or Medicine, Physics, Chemistry, and Peace.
Wiley's core businesses publish scientific, technical, medical, and scholarly journals, encyclopedias, books, and online products and services; professional/trade books, subscription products, training materials, and online applications and Web sites; and educational materials for undergraduate and graduate students and lifelong learners. Wiley's global headquarters are located in Hoboken, New Jersey, with operations in the U.S., Europe, Asia, Canada, and Australia. The Company's Web site can be accessed at http://www.wiley.com. The Company is listed on the New York Stock Exchange under the symbols JWa and JWb.
About RSMeans
RSMeans, a division of Reed Construction Data, is North America's leading source of construction cost information. The company offers print, CD and online cost data; reference books and seminars; and consulting services—tools to help owners, developers, architects, engineers, and contractors estimate and control construction costs. Visit www.rsmeans.com.
GREEN BUILDING
PROJECT PLANNING AND COST ESTIMATING, 3E
Published by John Wiley & Sons, Inc.,
Publication date: November 17, 2010
$99.95; Paperback; 480 pages; ISBN: 978-0-87629-261-7
For more information on this book, please visit: www.wiley.com/go/rsmeans