Planning and Managing Interior Projects, 2nd Edition
ISBN: 978-0-87629-537-3
576 pages
January 1999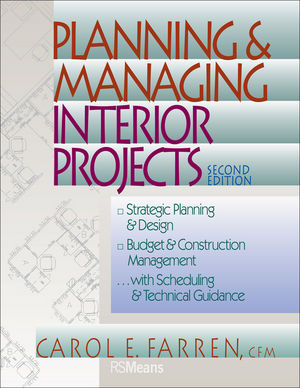 This comprehensive text addresses the ins and outs of downsizing, company mergers, and information technology—and how they affect workspace design. It will helps you successfully manage the players, agendas, and technology of today's office space construction, renovations, and relocations.
Planning & Managing Interior Projects guides facility managers, architects, and interior designers through every step in relocating to a new space or renovating an old one. In depth coverage addresses space requirements, selecting the right site, alternative work models (e.g., telecommuting, hoteling), document management, telecommunications and data issues, working with consultants, and environmental considerations.
See More
Acknowledgments.
Introduction.
Editor's Note.
Part 1: Project Planning & Site Selection.
Chapter 1: Strategic Planning.
Chapter 2: Forming the Project Team.
Chapter 3: Project Phases & Organization.
Chapter 4: Survey of Client Requirements.
Chapter 5: Locating the Site.
Part 2: Design Development.
Chapter 6: Space Planning, Layout & Design Development.
Chapter 7: Telecommunications & Data Cabling.
Chapter 8: Records Management.
Chapter 9: Data Center, Personal Computers & Office Equipment.
Chapter 10: Reuse of Existing Furniture.
Chapter 11: Security/Fire Safety.
Chapter 12: Environmental Considerations.
Part 3: Project Documents.
Chapter 13: Preparing & Monitoring the Budget.
Chapter 14: Construction Documents.
Chapter 15: Specifications & Coding for Furniture.
Chapter 16: Specifications & Coding for Finishes & Furnishings.
Chapter 17: Bidding & Purchasing: Construction, Furniture & Furnishings.
Part 4: Construction.
Chapter 18: Project Management & Documentation.
Chapter 19: Construction Management.
Part 5: Interior Features & Installation.
Chapter 20: Signage.
Chapter 21: Artwork/Graphics.
Chapter 22: Plants & Water.
Chapter 23: Interiors Installation.
Part 6: Relocation.
Chapter 24: Moving Into the New Space.
Chapter 25: Post-Move Administrative Duties.
Appendix.
See More
Carol E. Farren is President of Facility Management World Wide, Ltd., a New York City-based firm that provides facility and adminstrative management consulting services. The former director of facilities at Time-Warner, Inc., she has more than 30 years of experience in interior project management and has directed many high-profile design and relocation projects. She is past president of the Greater New York chapter of the International Facility Management Association (IFMA), a Certified Facility Manager (CFM), and an IFMA Fellow.
See More
Learn more about