Best Business Practices for Builders and Remodelers: An Easy-to-Use Checklist System
ISBN: 978-0-87629-619-6
240 pages
May 2001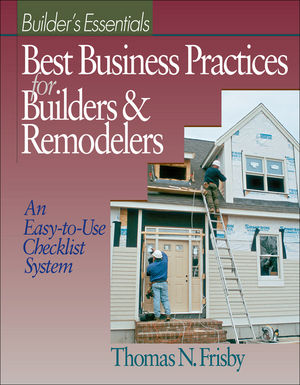 This unique text combines expert advice and tips for builders and remodelers for all aspects of running your company with over 40 easy-to-use checklists. This hands-on workbook is designed to help you manage your construction business better, and covers topics including:
Increasing your revenue and keeping more of your profit
Planning for long-term growth and reaching your goals for the future
Ensuring quality workmanship
Managing subcontractors and crews
Using technology to increase productivity
Establishing company policies and procedures
Staying out of legal and financial trouble
Creating thorough and accurate contract documents and estimates
How to properly set up and plan projects
A special Crisis Control section gives you quick advice and expert tips for solving emergencies and common problems on the job –  and helps you learn what you can do to avoid conflicts in the future. The book's dedicated website provides all fo the checklists in an easy-to-use download format.
See More
List of Checklists and Illustrations.
Foreword.
Acknowledgments.
About the Author and Contributors.
Chapter 1: How to Master Your Business with Checklists.
The Importance of Good Management.
Business and Financial Knowledge.
Leadership.
Managing Information.
Using Checklists to Steer Your Business to Success.
What You Will Learn From this Book.
Chapter 2: Strategic, Business, and Budget Planning.
Strategic Planning.
The Business Plan.
Attracting and Retaining Top Personnel.
Technology Planning.
Budget Planning.
What We Have Learned.
Chapter 3: Managing the Company.
The Keys to Management.
Expectations.
Establishing Company Procedures.
Working Relationships on the Job.
Good Practices for Good Relationships.
What We Have Learned.
Chapter 4: Staying out of Trouble.
The Contract.
The Schedule.
Changes.
Payment.
A Contractor's Remedies.
What We Have Learned.
Chapter 5: Job Set-up & Planning.
The First 25%.
Selecting Qualified Management.
Information Transfer.
Planning the Project.
Project Start-up.
Cost Accounting.
Material Handling Plan.
Project Control and Record Keeping.
Managing Changes to the Plan.
Job Filing System.
Early Indicator System.
Planning and Scheduling Software.
What We Have Learned.
Chapter 6: Quality Control and Inspection.
Professional Standards of Quality.
Meeting Codes and Standards.
Quality in Design.
Quality in Construction.
Avoiding Workmanship Problems.
Final Inspection.
Customer Satisfaction.
What We Have Learned.
Chapter 7: Managing Subcontractors.
How to Manage Subcontractors.
The Subcontract Agreement.
Pre-Construction Discussion.
Submittals.
Coordinate and Cooperate.
Project Close-out.
Subcontractor Evaluation.
What We Have Learned.
Chapter 8: Creating Reliable Estimates.
Scope of Work.
Site Visit.
Developing the Estimate.
Labor.
Overhead and Profit.
The Decision to Bid.
Developing Winning Proposals.
What We Have Learned.
Resources.
Recommended Reading.
Glossary.
Index.
Crisis Control.
See More