Job Order Contracting: Expediting Construction Project Delivery
ISBN: 978-0-87629-811-4
163 pages
September 2005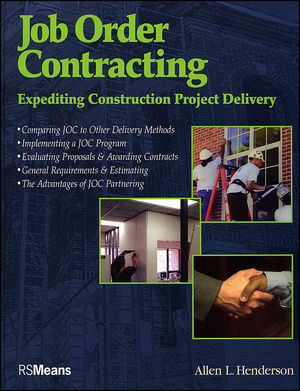 Job Order Contracting, JOC, is fast becoming the preferred contracting technique for repair and renovation, minor new construction, and maintenance projects in the public sector and in many states and municipalities. The author of
Job Order Contracting: Expediting Construction Project Delivery
, Allen Henderson, a leading JOC expert and practitioner, describes how to:
Establish a JOC program
Evaluate proposals & award contracts
Handle general requirements & estimating
Partner for maximum benefits
This book will quickly bring you up to speed on JOC (also known as delivery order contracting and SABER) so you can achieve faster project starts –  with fewer delays, fewer cost overruns, and fewer quality disputes.
See More
Acknowledgments.
About the Author & Contributors.
Foreword.
Preface.
Chapter 1: A Review of Project Delivery Methods.
Job Order Contracting.
Comparing JOC with Traditional Methods.
Competitive Sealed Bids—Stipulated Sum.
Competitive Sealed Proposals—Stipulated Sum.
Cost Plus Fee.
Cost Plus Fee with Guaranteed Maximum Price.
Construction Manager.
Construction Manager-at-Risk.
Design-Build.
Time & Materials.
Unit Price.
Comparison of Delivery Methods by Project Values.
Conclusion.
Chapter 2: JOC Fundamentals.
History of Job Order Contracting.
Understanding JOC Contracts.
Conclusion.
Chapter 3: JOC Program Implementation.
Determining Applicability.
Strategic Planning.
Program Management Interface.
Review of Owner Resources.
Procurement Processes.
Owner Training.
Contractor's Review of Owner's Resources.
Owner's Review of Contractor's Resources.
Contractor's Review of Own Resources.
Contractor Training.
Conclusion.
Chapter 4: Developing a JOC RFP.
Research vs. Reinvention.
RFP Solicitation.
Pre-Proposal Conference.
RFP Overview.
RFP Evaluation & Award.
Conclusion.
Chapter 5: General Requirements of the Job Order Contract.
Summary of Work.
Price & Payment Procedures.
Administrative Requirements.
Quality Requirements.
Temporary Facilities & Controls.
Execution Requirements.
Facility Operations.
Conclusion.
Chapter 6: Estimating JOC.
Training.
Repair & Remodeling Estimating.
JO Price Estimating.
Coefficient Development.
Conclusion.
Chapter 7: Anatomy of a Job Order.
Request for a Job Order Proposal.
Job Order Proposal Submittal.
Conclusion.
Chapter 8: The Partnering Aspect of JOC.
Understanding Partnering Principles.
Partnering in Construction.
JOC Partnering.
Conclusion.
Appendix.
JOC RFP Evaluation Summary.
Pre-Construction Checklist.
How to Use RSMeans Cost Data.
Resources.
Glossary.
Index.
See More
About the Author:
Allen L. Henderson has over 30 years of experience as a contractor and owner's representative. He is currently assistant director of facilities planning, design, and construction at Texas State University-San Marcos. Mr. Henderson is the founder and president of the Texas Job Order Contract Conference and represents Texas State as a member of the Center for Job Order Contracting Excellence at Arizona State University.
See More