Means Diccionario Inglés/Español de la Construcción, Nueva Edición Ampliada y Revisada
ISBN: 978-0-87629-817-6
416 pages
February 2006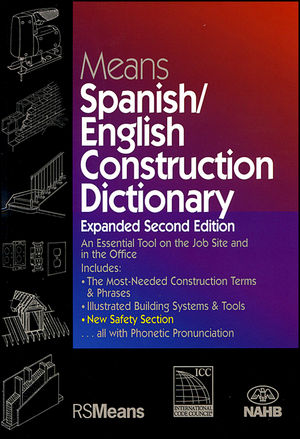 The illustrated dictionary features the most common terms and phrases, in both Spanish and English, complete with pronunciations. New to the second edition is a stand-alone safety and emergencies section for quick reference. Designed to facilitate communication – improving quality and safety on the job site.
This expanded edition features thousands of the most common words and useful phrases in the construction industry, with easy-to-follow pronunciations. Over 800 new terms, phrases, and illustrations have been added. It also features a new, stand-alone "Safety and Emergencies" section, with colored pages that stand out for quick access. This illustrated section is also a handy reference for training and understanding everyday job practices.
Unique to this dictionary are the systems illustrations that show the relationship of components in the most common building systems for all major trades. Additional drawings of tools and equipment are organized by construction specialty: carpentry, concrete, electrical, masonry, roofing, site work, and others.
An essential tool for contractors, construction workers, architects, building officials, and students in apprenticeship and training programs, this book is a collaboration with the International Code Council, with contributions from Rolf Jensen & Associates, noted building code consultants.
See More
Preface.
Acknowledgments.
Pronunciation Guide.
English–Spanish A–Z.
Useful Phrases.
Tables.
The Numbers.
The Months of the Year.
The Days of the Week.
Unit Conversion Tables.
Conversion Factors.
Illustrations.
General.
Site Work.
Concrete.
Masonry.
Structural Steel.
Carpentry.
Roofing.
Finishes.
Mechanical.
Electrical.
Safety & Emergencies.
Medical Emergencies.
See More