Textbook
The Voice of the People: Primary Sources on the History of American Labor, Industrial Relations, and Working-Class Culture
ISBN: 978-0-88295-225-3
246 pages
January 2004, ©2004, Wiley-Blackwell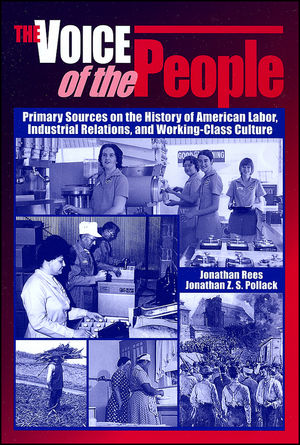 The first all-primary source reader in labor history published in nearly one hundred years, The Voice of the People presents excerpts from fifty-four primary sources to blend labor history's traditional focus on the growth of a union movement with windows into all aspects of workers lives—their workplaces, their unions, their home lives and their culture—the engaging selections mirroring the great diversity of the American workforce from the colonial era to the present.
Arranged into four parts, each of which begins with an original overview of the corresponding period in American history, this unique compilation of edited documents—each of which is preceded by a contextual introduction—offers students the opportunity to explore for themselves how specific events as well as general trends in American labor history affected real people, whether farm laborers, slaves, servants, mill hands, prostitutes, assembly-line workers, office temps, fast-food employees, or union leaders.
While its organization and diverse range make it an excellent companion to Harlan Davidson's popular Labor in America,* The Voice of the People can also stand alone or be used as an engaging supplement for any course in labor or United States history.
See More
Acknowledgments IX
Introduction XI
Part I: To 1877 1
Work and Labor / Management Relations 5
1. William Bradford Recounts the Social Development of Plymouth Plantation, ca. 1647 7
2. Hugh Jones on White Identical Servitude in Virginia 1724 10
3. Charles Ball Describes a Typical Day on a Slave Plantation 13
4. Harriet Farley, "Letter from Susan," 1844 16
5. Mark Twain on the Chinese Population of Virginia City, Nevada, 1872 21
The Union Movement 25
6. William Other Recalls His Unsuccessful Career as an Apprentice, 1885 26
7. William Manning's Plan for a "Labouring Society" 1798 30
8. Recruiting Song of the Journeymen Cordwainers, ca. 1790 33
9. Wendell Phillip Compares Northern Workers and Slaves, 1865 36
10. "Address of the National Labor Union to the People of the United States," 1870 39
Working-Class Culture 43
11. Anonymous Account of the Astor Place Riot, 1849 44
12. Samuel Gompers Describes Cigar Rolling in His Autobiography 49
13. Elizabeth Keckley Explains Why She Fought Back 53
14. James Burn on Work, Community, and Mobility in Civil War America 58
Part II: 1877-1914 63
Work and Labor/ Management Relations 67
15. Clarence Darrow Considers the labor Question, 1898 69
16. John Spargo Examines Child Labor in the Glassmaking Industry, 1906 73
17. Grace Potter Reports on Industrial Accidents in Niagara Falls, New York, 1913 78
18. Machinist Orrin Cheney Testifies to Congress on the Taylor System if Shop Management, 1911 83
The Union Movement 87
19. Initiation Ceremony of the Knights of Labor, ca. 1880 88
20. Anonymous, "Lines on the Homestead Riots: Wednesday, July 6th, 1892" 92
21. "Junius" Opposes American Imperialism, ca. 1898 96
22. Pearl Jolly Recalls the Ludlow Massacre, 1916 100
Working-Class Culture 105
23. An Agent for the United States Immigration Commission Describes the Working Life of Prostitutes, ca. 1909 106
24. Margaret Byington Studies the Diet of Steelworkers and Their Families, 1910 110
25. Werner Sombart Analyzes "The Democratic Style of Public Life in America," 1906 114
26. Joe Hill, "The Preacher and the Slave," 1911 117
27. Francis H. McClean Reports on the Amusements of the Bowery, 1899 119
Part III: 1914-1945 123
Work and Labor / Management Relations 127
28. Mrs. L. L. Ray Outlines Welfare Capitalism in a New York Department Store, 1911 129
29. Whiting Williams Endures Long Hours Working in a Steel Mill, 1921 132
30. Paul Taylor on the "American-Mexican Frontier" 136
31. Evelyn Gotzion Recalls Factory Work during World War II 139
32. Mervyn Rathbone Testifies in Defense of the National Labor Relations Act, 1939 143
The Union Movement 147
33. Elizabeth Gurley Flynn Justifies Sabotage, 1916 148
34. Harvey O'Connor Remembers the Seattle General Strike, 1919 151
35. A. J. Muste Mourns Slain Textile Workers, 1929 157
36. Howard Kester on the Rout of the Southern Tenant Farmers' Union, 1935 160
37. Louis Adamic Lists the Virtues and Advantages of a Sitdown Strike, 1936 164
Working-Class Culture 169
38. Lester Hunter, "I'd Rather Not Be on Relief," 1938 170
39. Vivian Morris Interviews an Unemployed Domestic Worker at the "Bronx Slave Market," 1938 173
40. Leadbelly, Songs of Depression and War, 1938 and 1944 177
41. Joseph Mitchell on McSorkey's Saloon, 1940 180
Part IV: 1945-Present 185
Work and Labor / Management Relations 189
42. Roberto Acuna Recalls Life Growing Up as an Itinerant Farm Worker 191
43. William Whyte Defines The Organization Man, 1957 195
44. Robin Leidner Works at McDonalds, 1980s 199
45. Jeremy Rifkin Explains the Reasons for Technological Unemployment in the Information Age, 1995 203
The Union Movement 207
46. James Lerner Remembers How McCarthyism Affected the United Electrical Workers 208
47. John F. Kennedy Questions Jimmy Hoffa about Union Ethics, 1957 212
48. George Meany Testifies in Favor of Civil Rights Bills, 1963 216
49. Mike Hamlin on Black Workers' Disputes with the United Auto Workers, 1970 220
Working-Class Culture 225
50. "Judith Ann" on Life in "The Secretarial Proletariat" 226
51. Fred Cook Reports on Hardhats vs. Hippies, 1970 230
52. Ben Hamper on Coping with Life in an Automobile Factory 235
53. "Keffo" Lays Out Patterns of Temp Worker Solidarity, ca. 1997 239
54. William Greider, from "One World, Ready or Not," 1997 242
See More
Jonathan Rees earned his M.A. and Ph.D. at the University of Wisconsin-Madison. He has taught at Whitman College, Southwest Missouri State University and is currently Associate professor of History at Colorado State University-Pueblo. He is the author of Managing the Mills: Labor Policy in the American Steel Industry During the Nonunion Era.
Jonathan Z. S. Pollack received his M.A. and Ph.D. from the University of Wisconsin-Madison. He has taught at the University of Wisconsin and is currently instructor of History at Madison Area Technical College. A specialist in the history of white-collar workers, his Prosperity and Transience: Madison's Jewish Community. 1850-2000, is forthcoming from the University of Wisconsin Press.
See More