Textbook
Twentieth-Century Europe: A Brief History, 2nd Edition
ISBN: 978-0-88295-235-2
August 2005, ©2005, Wiley-Blackwell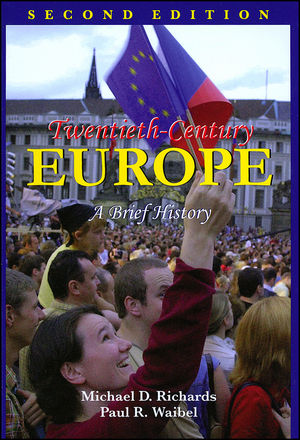 Likes its predecessor, the second edition of Twentieth-Century Europe remains a concise, affordable text in one volume, making it the perfect general introduction to a century of both great achievements and unimaginable barbarism.
Though mainly political in focus, the narrative is enriched by thoughtful descriptions of major artistic movements—introducing readers to important figures in literature, visual arts, music—and the emergence and growth of popular culture in its many forms.
Now updated with an entirely new chapter that closes out the twentieth century, thematic unit openers, chronologies, new photographs, and new lists of suggested readings and films.
See More
Preface vii
Part One Overview: 1900-1919 1
Chapter 1 Before the Deluge: Europe, 1900-1914 5
Chapter 2 The Great War, 1914-1917 27
Chapter 3 Revolution and Peacemaking, 1917-1919 45
Part Two Overview: 1919-1939 63
Chapter 4 Aftershocks of the Great War 67
Chapter 5 Recovery and Prosperity, 1919-1929 85
Chapter 6 From Depression to War, 1929-1939 103
Part Three Overview: 1939-1967 123
Chapter 7 Armageddon: Europe in World War II, 1939-1945 127
Chapter 8 Cold War and Decolonization, 1945-1961 149
Chapter 9 Out of the Ashes: From Stunde Null to a New Golden Age, 1945-1967 167
Part Four Overview: 1968-Present 193
Chapter 10 Metamorphosis: An Era of Revolutionary Change, 1968-1989 199
Chapter 11 New Realities for a New Age 225
Chapter 12 Charting a New Course: Europe in the 1990s and Beyond
Appendix I Additional Sources 265
Appendix II Abbreviations and Acronyms 268
Index 273
Maps
Europe in 1914 29
Europe Between the Wars 57
Europe During the Cold War 161
Europe in the 1990s 222
See More
Michael D. Richards, Samford Professor of History at Sweet Briar College, retired from the college in 2004 after thirty-eight years of teaching. He holds an undergraduate degree from the University of Tulsa and a Ph.D. from Duke University. A Fulbright-Hayes Scholar in the Netherlands, Dr. Richards also was an NEH Fellow at UCLA. The author of Revolutions in World History (2003), he has published several book chapters and articles and reviews in scholarly journals, periodicals, and reference works. He also has written for the History News Service. Dr. Richards currently is Policy Coordinator and Vice President of Population-Environment Balance, a national nonprofit organization in Washington, D.C.
Paul R. Waibel is professor of history at Belhaven College. He is the author of Politics of Accommodation (1983), Quiknotes: Christian History (2000), and numerous articles and reviews in scholarly journal, periodicals, reference works, and anthologies. Professor Waibel holds degrees in history from Lynchburg College, Virginia Tech. and West Virginia University. He was a Fulbright-Hayes Scholar at the University Bonn, Germany, and an NEH Fellow at UC Berkeley.
See More