Textbook
Mississippi: A History
ISBN: 978-0-88295-236-9
445 pages
March 2005, ©2005, Wiley-Blackwell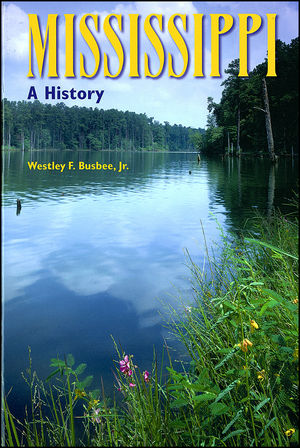 We are especially proud to announce the publication of Mississippi: A History, the first textbook ever published specifically for use in college-level courses in Mississippi history.
In his sweeping coverage of the Mississippi story—from prehistoric times to the present day— Dr. Westley F. Busbee, Jr., deftly combines narrative and topical chapters to address major political, economic, social, and cultural developments. Having taught Mississippi history in college classes for more than thirty years, Dr. Busbee approaches this unflinching account by asking why Mississippi—with its rich natural and human resources—continues to compare unfavorably with other states in such critical areas as per capita income, adult literacy, and public health. "How and why," he asks, "did all of us who call Mississippi home get where we are? What past mistakes might we hope to correct and what innovative approaches might we take to enhance the future of the state?"
The book seeks answers to these meaningful questions through a careful assimilation of information gleaned from a multitude of secondary and primary sources. It also includes original maps and tables as well as a multitude of photographs, selected sources by chapter, a Selected Bibliography of Mississippi History, a series of appendices, and a full subject index. In sum, this innovative survey provides a great new resource for all instructors of Mississippi history, a common base of information for students pursuing knowledge and meaning in the study of their state's past, and a comprehensive and engaging read for anyone interested in knowing more about the fascinating history of the Magnolia State.
See More
Preface and Acknowledgments IX
Chapter One. Mississippi: The Name and the Place 1
Chapter Two. Two Worlds Collide: Spanish Explorers and American Indians 9
Chapter Three. French Colonies 23
Chapter Four. The British Period, 1763-1781 37
Chapter Five. Spanish Rule, 1781-1798 45
Chapter Six. The Territorial Period, 1798-1817 54
Chapter Seven. The New State, 1817-1832 69
Chapter Eight. Antebellum Politics 89
Chapter Nine. Antebellum Life 100
Chapter Ten. Mounting Sectional Strife 119
Chapter Eleven. Secession and Civil War 130
Chapter Twelve. Reconstruction in Mississippi 148
Chapter Thirteen. Bourbons and Populists 164
Chapter Fourteen. Into the Twentieth Century: Economic and Social Trends 182
Chapter Fifteen. Progressive "Rednecks" 198
Chapter Sixteen. A New Era, The 1920s 211
Chapter Seventeen. The Depression Years 226
Chapter Eighteen. A Rich Cultural Heritage 238
Chapter Nineteen. The World War II Era 257
Chapter Twenty. The Fifties 270
Chapter Twenty-One. Religious Life 284
Chapter Twenty-Two. The Second Reconstruction 296
Chapter Twenty-Three. Times of Transition 316
Chapter Twenty-Four. The Social Environment 336
Chapter Twenty-Five. Recent Political Trends 351
Chapter Twenty-Six. Tumultuous Trends in Education 367
Chapter Twenty-Seven Recent Economic Trends 387
Epilogue 408
Selected Bibliography of Mississippi History 411
Appendix I. European Rulers with Relation to Mississippi during the Colonial and Territorial Periods 417
Appendix II. Members of the U.S. Congress, 1817-1861 421
Appendix III. Mississippi Symbols and Facts 427
Appendix IV. Total Population, 1800-2000 428
Appendix V. Racial Population Changes 1800-2000 429
Appendix VI. Racial Composition of Population, 2000 430
Index. 431
See More
Westley F. Busbee Jr. , whose Mississippi ancestors predate statehood, was born and raised in Meridian. A graduate of Rhodes College, he earned the M.A. and Ph.D. degrees at the University of Alabama. Since 1968 Dr. Busbee has chaired the Department of History and Political Science and the Division of Humanities at Belhaven College, where he has also taught courses in Mississippi history for more than thirty-five years. Among other professional associations, Dr. Busbee is a member of the Mississippi Historical Society and the Southern Historical Association. He and his wife Carol reside in Rankin County and are the proud parents of three and grandparents of seven.
See More