Textbook
Cuba Libre: A Brief History of Cuba
ISBN: 978-0-88295-246-8
April 2006, ©2006, Wiley-Blackwell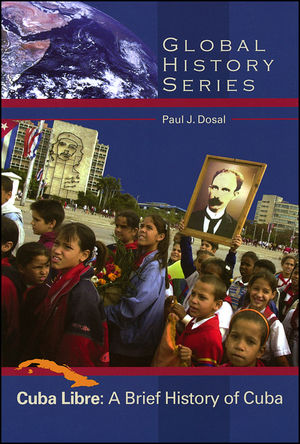 As a work intended as concise supplementary reading for undergraduates, in the general pattern of Harlan Davidson's American and European History Series, Paul Dosal's Cuba Libre is a smashing success—relating the fascinating history of the island nation in 150 pages of lively narrative—one that will set the tone for the volumes to follow.
In its selection of facts and figures and steadily paced storyline, this succinct history of Cuba, from first contact with Europeans to the present, will appeal to students and instructors alike as interesting and informative reading for the Latin American and World History surveys, as well as specialized courses in Cuban history of Latin American-U.S. relations.
See More
Editor's Foreword vii
Acknowledgments xi
Preface 1
Chapter One: The Key to the New World, 1492-1825 4
Conquest and Colonization 6
International Rivalry in the Caribbean 8
The British Occupation of Havana 11
The Emergence of Cuban Nationalism 15
Chapter Two: The Wars for Independence, 1825-1898 23
Sugar and Slavery 24
The Ten Years War, 1868-1878 30
Between Wars, 1878-1895 34
The Cuban War for Independence, 1895-1898 36
Chapter Three: The First Republic, 1898-1934 42
The Politics of the First Republic, 1902-1933 45
The Dance of the Millions 48
Cubanidad 53
The Revolution of 1933 56
Chapter Four: The Second Republic, 1934-1958 63
The Politics of the Second Republic, 1934-1952 64
The Batistato, 1952-1958 67
Americanization and Cubanidad 72
The Insurrection 76
Chapter Five: The Revolution: 1959-1970 83
Consolidating the Revolution, 1959-1960 85
Defining the Revolution, 1960-1961 88
Defending the Revolution, 1961-1962 93
Revolution with Pachanga; 1963-1970 97
Chapter Six: The Last Revolutionary: 1970-2005 105
The Institutional Revolution, 1970-1980 106
Race and Culture in Revolutionary Cuba 111
Women in Revolutionary Cuba 116
The Special Period, 1990-2005 120
Conclusion 125
Bibliographical Essay 128
Maps 141
Present-day Cuba, Library of Congress, g4920 ct 000515 (front endsheet)
Spanish Ameica, circa 1800 16
Cuba Missile Locations, 1962 95
Central America and the Caribbean, Library of Congress, g4800 ct 000857a (back endsheet)
Photographs follow page 62
See More
Paul J. Dosal, born and raised in Tampa is a fourth-generation Cuban American, a descendant of the cigar makers who founded Ybor City in the late nineteenth century. He received his Ph.D. in History from Tulane University in 1987 and taught at the University of Massachusetts-Amherst (1987-95) before returning to his home town to teach at the University of South Florida. He has published Doing Business with the Dictators: A Political History of the United Fruit Company in Guatemala, 1899-1944 (1993), Power in Transition: The Rise of Guatemala's Industrial Oligarchy, 1871-1994 (1995); and Comandante Che: Guerrilla Soldier, Commander, and Strategist, 1956-1967 (2003). He teaches graduate and undergraduate courses on Latin American Civilization, Revolutions in Latin America, Cuba, and United States Relations with Latin America.
See More