Textbook
In the Wake of Columbus: The Impact of The New World on Europe, 1492 - 1650, 2nd Edition
ISBN: 978-0-88295-249-9
December 2006, ©2007, Wiley-Blackwell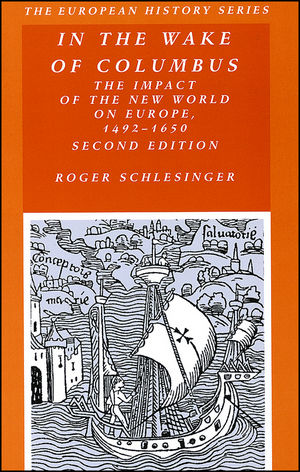 500 year ago, Christopher Columbus "discovered" the Americas" that was to change radically the lives of all indigenous Americans and shape their subsequent histories. In the second edition, the author details the clash of cultures and considers the impact of the exploration and conquest of America.
See More
Foreword / vii
Acknowledgments / xi
Introduction / 1
1. European Economics and America / 9
Table 1: Total Decennial Imports of Fine Gold and Silver (in Grams) / 14
Mercantilism and America / 23
2. European Politics and America / 31
European Rivalries in America / 33
Political Thought / 54
3. European Conceptions of Native Americans / 61
Native Americans in European Thought / 62
Native Americans in European Art / 82
4. European Daily Life and America / 92
American Foods and European Life / 92
American Plants and European Life / 104
American Animals and European Life / 110
American Diseases and European Daily Life: The Case of Syphilis / 111
Afterword / 122
Bibliographical Essay / 124
Index / 139
Illustrations (p. xiii) follow page 60
See More
Roger Schlesinger received his Ph.D. at University of Illinois, Urbana. He teaches Renaissance and Reformation history at Washington State University. Professor Schlesinger has received several teaching awards, including the Burlington Northern Award for Excellence in Instruction (1990), the Mortar Board Distinguished Professor Award (1994), the Honors College Outstanding Faculty Award (1999), and The Sahlin Faculty Excellence Award for Instruction 2003-04. His publications include André Thevet's North America: A Sixteenth Century View (1986), Portraits From the Age of Exploration (1993), In the Wake of Columbus: The Impact of the New World on Europe, 1492-1650 (1996, 2007), and Global Passages: Sources in World History (2003).
See More