Textbook
Michigan: A History of the Great Lakes State, 4th Edition
ISBN: 978-0-88295-257-4
360 pages
April 2008, ©2008, Wiley-Blackwell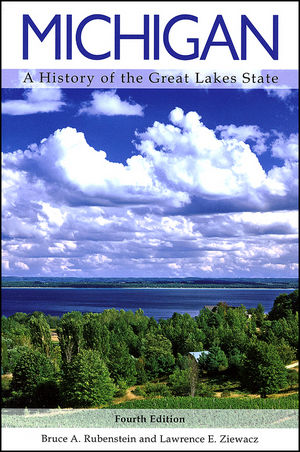 Informed by the latest research and taking the long and fascinating history of Michigan right up to the present, this fourth edition of the leading survey of the Great Lakes State features a thoughtful redesign of its maps, new photographs, and expanded coverage, including the social and economic impact of tribal operated casino gaming on the state's American Indian population; environmental issues; agriculture; education; the latest developments in the Jimmy Hoffa mystery; literary and media contributions; Michigan's return to prominence in the realm of collegiate and professional sports, politics in the twenty-first century, the revitalization of Detroit, and the deepening economic decline since 2003.
See More
Introduction vii
1.The Original Michiganians 1
2. The New Acadia 16
3. Under the Union Jack 42
4. Wilderness Politics and Economics 57
5. Challenges of Statehood 70
6. Decade of Turmoil 84
7. In Defense of the Nation 101
8. Radicals and Reformers 113
9. Early Ethnic Contributions 128
10. Grain, Grangers, and Conservations 139
11. Development of Intellectual Maturity 154
12. Wood and Rails 171
13. The World of Wheels 190
14. From Bull Moose to Bull Market 205
15. Depression Life in an Industrial State 224
16. Inequality in the Arsenal of Democracy 242
17. Fears and Frustration in the Cold War Era 254
18. The Turbulent 1960s 267
19. Challenges of the 1970s 280
20. Toward the Twenty-First Century 291
21. Entering the New Millennium 309
Appendix A. Governors of the Territory and State of Michigan 325
Appendix B. Counties, Dates of Organization, and Origins of County Names 327
Appendix C. Michigan's State Song 333
Appendix D. Michigan's State Symbols 334
Index 335
See More
Dr. Bruce A. Rubenstein, Professor of History at the University of Flint-Michigan, is a native of Port Huron, Michigan, and received his Ph.D. from Michigan State University. Dr. Rubenstein's areas of specialty, in addition to Michigan history, are American Indian-White Relations, Twentieth-Century Political History, and the History of Sports. He co-authored two other books with Dr. Ziewacz, Three Bullets Sealed His Lips and Payoffs in the Cloakroom: The Greening of the Michigan Legislature, 1938-1945, both dealing with Michigan's political history. He also has authored Chicago in the World Series, 1903-2005: The Cubs and White Sox in Championship Play, in addition to several articles on baseball and American Indian-White Relations in Michigan.
Dr. Lawrence E. Ziewacz, late Professor of American Thought and Language at Michigan State University, was a native of Sault Ste. Marie, in Michigan's upper peninsula and received his Ph.D. from Michigan State University. In addition to his co-authored books with Dr. Rubenstein, he co-authored The Games They Played: Sports in American History and was co-advisory general editor for The Guide to United States Popular Culture. Dr. Ziewacz was a reviewer for the National Endowment for the Humanities and published numerous articles on sports and Michigan political history.
See More