Textbook
The Methods and Skills of History: A Practical Guide, 3rd Edition
ISBN: 978-0-88295-272-7
294 pages
December 2009, ©2010, Wiley-Blackwell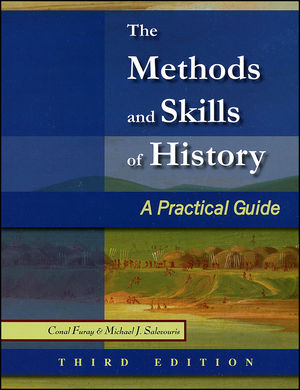 Like its predecessors, the third edition of one of our most popular texts, The Methods and Skills of History: A Practical Guide, is a dynamic text/workbook that combines theory with "hands on" practice, providing engaging essays, documents, and exercises designed to make history more meaningful and accessible to student readers—whether they are majoring in history, taking a history course as an elective, or simply reading history on their own—as well as strengthen their critical-thinking and communication skills.
While this third edition retains the essence of its highly successful predecessor in the form of its practical, timely advice on research and writing and "field-tested" exercises, it features important modifications as well, including a reorganization of the chapters to progress even more smoothly from a theoretical discussion of the nature of history (Part I), to practical considerations involved in confronting historical accounts (Part II) to actually "doing" history (Part III). The final section (Part IV) provides a brief overview of how history as a discipline evolved and how it relates to other academic disciplines, as well as appendices that comprise interesting historical documents and helpful source references and bibliographies.
See More
Preface ix
PART I Historical Thinking 1
Chapter 1 The Uses of History 3
Exercises Set A 7
Exercises Set B 9
Chapter 2 The Nature of History: History as Reconstruction 11
Exercises Set A 17
Exercises Set B 20
Chapter 3 Historical Thinking: Continuity and Change 23
Exercises Set A 30
Exercises Set B 35
Chapter 4 Historical Thinking: Multiple Casualty in History 39
Exercises Set A 48
Exercises Set B 55
Chapter 5 Historical Thinking: Context 59
Exercises Set A 65
Exercises Set B 69
PART II Confronting the Historical Account 75
Chapter 6 Libraries: Real and Virtual 77
Exercises Set A 87
Exercises Set B 97
Chapter 7 Reading History 105
Exercises Set A 113
Exercises Set B 121
Chapter 8 History on Film 125
Exercise 135
PART III Doing History 137
Chapter 9 Evidence 139
Exercises Set A 147
Exercises Set B 157
Chapter 10 Oral History and Statistics 165
Exercises Set A 174
Exercises Set B 177
Chapter 11 Interpretation 181
Exercises Set A 190
Exercises Set B 197
Chapter 12 Writing: The History Paper 205
Exercises Set A 216
Exercises Set B 220
PART IV Historiography 225
Chapter 13 The History of History 227
Exercise 240
Chapter 14 History and the Disciplines 243
Exercises 249
Appendix A Fur Trade on the Upper Missouri River: Documents 257
Appendix B Source References and Bibliographies 265
Appendix C Sample Oral History Release Form 269
Suggestions for Further Reading 271
Index 277
See More
Michael J. Salevouris ia a Professor of History at Webster University in St. Louis. He received his Ph.D. degree from the University of Minnesota and currently teaches courses in history methods, British and European history, the history of warfare, and the history of disease and medicine. In addition to various reviews and articles he is the author of "Riflemen Form": The War Scare of 1859-1860 in England, and (with Conal Furay) Learning American History: Critical Skills for the Survey Course. His interests include golf, tennis, mystery novels, model building, and traveling far and wide when the opportunity presents itself.
A native of Omaha, Nebraska. Conal Furay received his doctoral degree from St. Louis University. Before becoming a Professor Emeritus at Webster University he taught such courses as American Business History and the Western in film and story. Previous publications include The Grass-Roots Mind in America, and (with Michael Salevouris) Learning American History: Critical Skills for the Survey Course. Current interests are Nebraska Cornhusker football, golfing with friends, and a late-blooming enjoyment of reading National Geographic magazine from cover to cover.
See More