Textbook
Japanese Americans and World War II: Mass Removal, Imprisonment, and Redress, 4th Edition
ISBN: 978-0-88295-279-6
92 pages
January 2011, ©2011, Wiley-Blackwell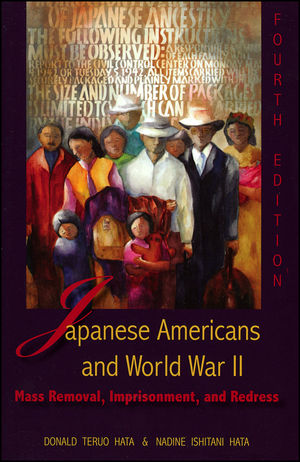 Like its predecessors, this fourth edition of Japanese Americans and World War II is intended as a succinct and affordable supplement to history and political science texts that minimize or neglect the Nikkei (Japanese American) experience in World War II. As was hoped, the first two editions of this publication found an enthusiastic reception by instructors and students alike at the high school, community college, and university level. In addition, the expanded third edition found a new readership beyond the classroom, in members of and visitors to museums, such as the Japanese American Museum in Los Angeles, and interpretive centers at former concentration camp sites administered by the National Park Service at Manzanar, Tule Lake, and others (some in progress).

In response to the supportive and constructive feedback of students, instructors, and lay readers, we at Harlan Davidson undertook a bold and sweeping redesign of the third edition that saw our well-loved little "pamphlet" become an attractive but still highly affordable book that, in addition to taking the narrative completely up to date, has been thoroughly re-edited and expanded further to include photographs, key documents, and an enhanced multidisciplinary bibliography of 200 core publications by historians, political scientists, sociologists, anthropologists, and others, as well as multimedia and Internet-based sources. Inaccurate and misleading euphemisms such as "evacuation" and "internment" have been meticulously replaced with more accurate terms like "mass removal" and "imprisonment—changes explained and amplified in a new "Note on Terminology," which explains the movement to correct long out-dated language and refers readers to thoughtful essays on the subject by eminent scholars.
See More
Preface and Acknowledgments ix
Introduction 1
"Yellow Peril": Issei Pioneers and the Anti-Chinese Legacy 3
The Movement for Japanese Exclusion 6
"200 Percent" American: Emergence of the Nisei 9
War Hysteria. Racism, and Political Expedience 12
Executive Order 9066: "Military Necessity"? 15
Mass Removal of "All Persons of Japanese Ancestry" 18
Administering the Concentration Camps 21
Life Behind Barbed Wire 23
Violence and Death by Deadly Force 26
The Botched Loyalty Questionnaire 29
Nikkei Soldiers and Draft Resisters 32
The Wartime Supreme Court Test Cases 35
Release and Return 38
Recovery: "Model" or "Marginal" Minority? 42
Breaking the Silence: Nikkei Confront the Nightmare 44
The Movement for Redress 48
The Commission's Report and Recommendations 51
"Military Necessity" and the Coram Nobis Cases 53
Epilogue 55
Note on Terminology 68
Selected Bibliography 69
General Work on Japanese American History 69
The World War II Incarceration of Japanese Americans 72
Postwar Recovery and the Redress Movement 83
Films, Videos, and DVDs 84
Web Sites and the Internet 86
Index 88
Map, Documents (Executive Order 9066, and Instructions to implement Civilian Exclusion Order No. 108), and Photographs follow page 56
See More
Nadine Ishitani Hata was emeritus professor of history and emeritus vice president for Academic Affairs at El Camino College in Torrance, California. She served two terms on the California State Historical Resources Commission – when Mazanar and Tule Lake concentration camps received historic site status, vice chair of the California State Advisory Committee to the U.S. Commission on the Civil Rights, and was elected to the governing boards of the American Historical Association and the Los Angeles Conservancy. Born in 1941 and raised in Honolulu, Hawaii, she died in 2005 of metastasized breast cancer.
Donald Teruo Hata is emeritus professor of history at California State University Dominguez Hills and recipient of the CSU Trustees Systemwide Outstanding Professor Award. He served as planning commissioner and city councilman in Gardena, California, on the governing boards of the California Historical Society of and the Historical Society of Southern California, and as an elected officer of the American Historical Association. He was born in 1939in East Los Angeles and incarcerated at the age of three in the U.S. War Relocation Authority concentration camp at Gila River, AZ during World War II.
See More