Textbook
And Still They Come: Immigrants and American Society 1920 to the 1990s
ISBN: 978-0-88295-928-3
262 pages
January 1996, ©1996, Wiley-Blackwell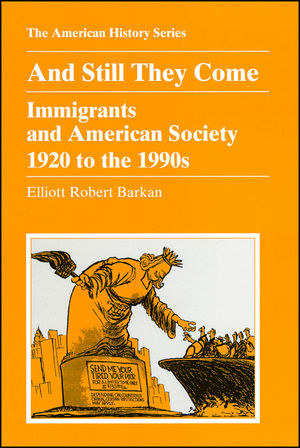 In this distinctive study of the impact of immigration and ethnicity on twentieth-century America, Barkan thoughtfully examines the changing composition of our immigrant populations, highlighting the ways in which certain facets of the struggle to adapt to American society have persisted from the 1920s until the 1990s. Going beyond the immigrant experience, Barkan considers the ways in which second- and third-generation Americans stress integration, even as they cling to important components of their ethnicity, not only adapting to American culture but shaping it. Featuring a moving photographic essay and coming alive with first-person accounts, And Still They Come is certain to provide important food for thought as Americans once more consider the narrowing gateways to the nation.
See More
Foreword V
List of Tables and Figures X
Acknowledgments XII
Introduction 1
PART ONE 7
From Postwar to the Eve of World War: 1920-1940 8
Chapter One: The 1920s: Halting the Immigrant Floodtide 9
Adopting Quotas and National Origins 9
The Struggle Over American Citizenship 15
Chapter Two: Adapting to America: The Interwar Years 18
The Not-So-Roaring Twenties 18
Earning a Living 24
Ties that Bind: Homelands and Ethnic Institutions 32
Language, Culture, and the Second Generation 36
Leadership, Citizenship, and Ethnic Politics 40
Chapter Three: The Thirties in Crisis: Repatriation, Refugees, and the New Deal 44
Repatriation: Mexicans and Filipinos 45
Culture, Politics, and the Labor Movement 48
Anti-Semitism and the Refugee Question 50
PART TWO 55
From World War to Cold War: 1940-1965
Chapter Four: Waging War—At Home and Abroad 58
Regulation, Registration, Internment 58
Waging War on the Homefront 64
The Dilemmas of Ethnicity in Wartime 67
Chapter Five: Breaking New Ground: War Brides, DPs, and Refugees 72
Innovations: War Brides and DPs 73
Reveling and Unraveling National Origins 76
America's Migrants: With and Without Papers 80
Chapter Six: Immigrants and American Society at Midcentury 86
An Overview: Immigrants and Ethnics 87
Immigrants and Ethnics: Urban, Suburban, Rural 91
New Immigrants, New Americans, Old Issues 100
Immigrants and American Citizenship 104
PART THREE 111
America in a Rimless World: 1965-1995 112
Chapter Seven: In the Era of the Cold War and Beyond: Immigrants and Ethnics 115
Legislative Reforms, 1965-1986 115
An Overview of Immigration, Documented and Undocumented, 1965-1995 119
Female Immigration 128
The Immigrant Experience 131
The Immigrant Experience 131
Ties to the Homeland 139
Chapter Eight: Immigrant and Ethnic Adaptation in the Late Twentieth Century: Diversities Within Diversity 144
The White Ethnic "Revival" 146
Religion, Language, culture, and Community 151
The Pillars of Occupation and Education 157
Brain Drain or Reciprocal Gain? 164
Citizenship and Politics: To Do or Not to Do 166
Contrasting Studies of Ethnic Activism: Japanese Americans and Chicanos and Other Latinos 172
Chapter Nine: The 1990s: New Directions or Full Circle? 178
1990: A New Census and New Immigration Reforms 179
The "Costs" of Immigration—Legal and Undocumented 183
The Challenge and the Toll of Immigration 190
Appendix: Additional Tables 197
Bibliographical Essay 215
Index 251
Photo Essay / follows p. 126
Photo Credits 261
See More
"Barkan offers a thoroughly researched and carefully balanced synthesis, emphasizing the diversity among individuals and groups before and after 1965 and offering carefully well-qualified generalizations. ... In short,
And Still They Come
is a valuable addition to the literature on American immigration since restriction, synthesizing a vast literature in a clear and original way." (
International Migration Review
, 1998)
"This book is absolutely first rate-cogent in argument, wide in sweep, grounded in the right sources, and written to be read."
–Randall Miller, St. Joseph's University
See More
Buy Both and Save 25%!
And Still They Come: Immigrants and American Society 1920 to the 1990s (US $29.95)
-and- Latino Immigrants in the United States (US $22.95)
Total List Price: US $52.90
Discounted Price: US $39.67 (Save: US $13.23)
Cannot be combined with any other offers. Learn more.
More in this series