Textbook
Learning California History: Essential Skills for the Survey Course and Beyond
ISBN: 978-0-88295-945-0
132 pages
September 1998, ©1999, Wiley-Blackwell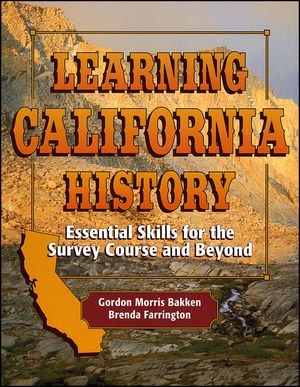 The first of its kind, Learning California History is a dynamic workbook designed to complement any of the standard California history textbooks currently available.
Much more than supplementary reading, this innovative teaching and student assessment tool introduces students to basic social science research methods, using carefully designed exercises and historical documents to enhance the reading, research, and writing skills of students of all levels.
See More
Acknowledgements ix
A Note to Instructors: Students Welcome! Xi
Chapter 1: Writing California History: A History 1
Chapter 2: Teaching California History 7
Exercise 10
Chapter 3: Thinking Critically 17
Exercises 21
Chapter 4: Constructing Context 33
Exercise 36
Chapter 5: Evaluating Evidence 47
Exercise 52
Chapter 6: Interpreting Evidence 67
Exercises 72
Chapter 7: Locating and Assessing Sources 85
Exercises 88
Chapter 8 Writing California History: Your Turn 117
Exercises 122
See More
Gordon Morris Bakken  is Professor of History at California State University-Fullerton, Past President of Phi Alpha Theta, the National Society in History, Parliamentarian of the Organization of American Historians, founding Vice-President and Director of the California Supreme Court Historical Society, editor of The University of Oklahoma Press's The Legal History of North America Series, and the author of six books and numerous articles and encyclopedia entries.
Brenda Farrington has taught American and California history for over ten years, working closely with students and professors to enhance writing, research, and study skills. She teaches at Santa Ana College and recently created the text bank and study guide for the fifth edition of Andrew Rolle's California: A History. She is the author of numerous articles and encyclopedia entries on subjects as diverse as Sputnik I and the California Supreme Court under Chief Justice Rose Bird.
See More