Textbook
Farewell, My Nation: The American Indian and the United States in the Nineteenth Century, 2nd Edition
ISBN: 978-0-88295-956-6
284 pages
September 2000, ©2001, Wiley-Blackwell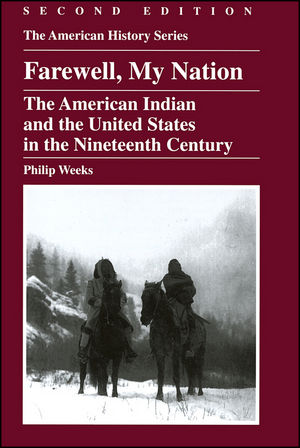 Like its predecessor, the second edition of Philip Weeks's highly popular volume illuminates the problems caused by westward expansion in the nineteenth century, as battle after battle was fought, treaty after treaty was broken. Weeks discusses the three possible resolutions undertaken in varying degrees by the U.S. government –separation, concentration, and Americanization– as he guides the reader through the significant changes in Indian-White relations during this pivotal time.
Informed by the latest scholarship and expanded to consider the entire scope of U.S-Indian relations in the nineteenth century, the second edition of the engaging Farewell, My Nation provides important supplemental reading for the U.S history survey and essential text for courses in American Indian studies.
See More
Foreword VII
Preface XI
Acknowledgments XV
Introduction: Dead Dreams 1
Chapter One: The "Indian Question" 13
Arrival through the American Revolution 13
Breaching the Ohio Country 23
Tecumseh, Gradualists, and Removalists 27
Toward a Policy of Separation 34
Removing the Southern Tribes 40
Chapter Two: The Changing West 53
Fashioning the Indian Territory 54
Dashed Hopes 63
A New Solution 72
Concentration in the Indian Territory and Texas 79
Chapter Three: The Civil War Years 89
Civil War in the Indian Territory 91
The Santee Sioux Uprising 104
Colorado and Sand Creek 112
Chapter Four: The Plains Wars, Phase I: Realizing Concentration 123
Post-Civil War Indian Policy 124
Those Who Resisted Concentration 129
Olive Branch and Sword 134
The Myth of Peace 147
Chapter Five: The Plains Wars, Phase II: Enforcing Concentration 163
Grant's "Peace Policy" 163
At the Watershed 171
The Peace That Slipped Away 180
The Last Great Struggle 188
"To Conquer a Lasting Peace" 195
Chapter Six: The Search for New Order 205
Reforms and Jurisdictional Disputes 207
Reappraising the Concentration Policy 214
Americanization: Something Old and New 225
"To Make the World Wiser and Better" 235
Aftermath: A Brief Profile of the Twentieth Century 243
Bibliographical Essay 251
Index 258
Maps:
Removal of the Tribes of the South and Old Northwest 43
The Plains Indians and Western Trails 73
Great Plains, circa 1860-1875 92
Northern Great Plains, circa 1875-1890 181
Photos follow page 126
See More
Philip Weeks is a professor of history at the Stark campus of Kent State University, where he received the Distinguished Teaching Award, the highest honor that can be bestowed on faculty of the campus. He received his Ph.D. from Case Western Reserve University. Professor Week's other books include Buckeye Presidents: Ohioans in the White House, Land of Liberty: A United States History and The American Indian Experience: A Profile.
See More
More in this series