Textbook
Southern Women: Black and White in the Old South, 2nd Edition
ISBN: 978-0-88295-963-4
240 pages
October 2001, ©2002, Wiley-Blackwell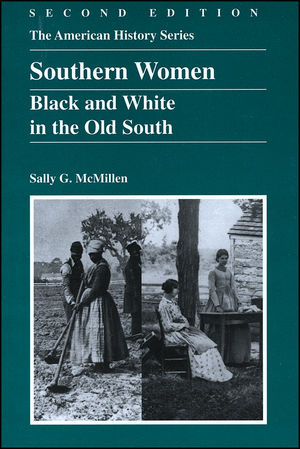 Unlike their Northern counterparts, Southern women lived in relative obscurity, giving rise to, and often making them victims of, myth and exaggeration. In Southern Women, Professor McMillen considers diaries, letters, and other personal accounts as well as the latest scholarly research to present an alternate view into the lives of antebellum Southern women, helping to dispel myths about how these women lived.
This intriguing narrative assesses similarites and differences among the various classes of Southern women, as well as interracial and class relationships. A wholly new chapter on Southern women and the Confederacy--including rare scholarship on yeoman and poor farmwives--and photographic essay help make the second edition of this versatile text ideal as supplementary reading in the U.S. History survey as well as in courses on Southern, Social, and Women's, and African American History.
See More
Forward vii
Acknowledgments xi
INTRODUCTION: An Overview of the South and Southern Women 1
CHAPTER ONE: Family Life and Marriage 13
Family 13
Courtship and Marriage 17
Miscegenation and Sexuality 25
Marriage 34
Black Women and Marriage 37
White Women and Marriage 41
Laws and Marriage 48
CHAPTER TWO: Reproduction and Childrearing 57
Fertility 57
Pregnancy 62
Childbearing 66
Motherhood and Childrearing 74
CHAPTER THREE: Social Concerns: Education and Religion 90
Education 90
The School Experience 95
Education for the Less Privileged 101
White Women and Religion 104
Women's Benevolence 111
Black Women and Religion 114
CHAPTER FOUR: Women and Work 118
The Meaning of Southern Women's Work 118
Slave Labor 120
Slave Protest 126
White Women and Work 128
Work on the Frontier 132
Paid Employment 135
Nontraditional Roles 140
Interracial and Class Relationships 144
Those Who Questioned Slavery 151
CHAPTER FIVE: Southern Women and the Confederacy 154
Elite White Women 155
Slave and Free Black Women 172
Yeoman and Poor Farmwives 176
Coping Skills and Union Supporters 180
End of War 182
Conclusion 183
Bibliographical Essay 187
Index 209
Photos follow page 100
See More
Sally G. McMillen is Professor of history at Davidson College, where she has taught since 1988. She is also the author of Motherhood in the Old South: Pregnancy, Childbirth, and Infant Rearing (1990), To Raise Up the South: Sunday Schools in Black and White Churches, 1865—1915 (2002) as well as several journal articles. She is co-editor of Major Problems in the History of the American South (1999).
Born and raised in southern California, she is the mother of two grown children. Her personal interests include running, hiking, biking, reading, and traveling.
See More
More in this series