Looseleaf
20 Active Training Programs, Volume 2
ISBN: 978-0-88390-415-2
452 pages
November 1993, Pfeiffer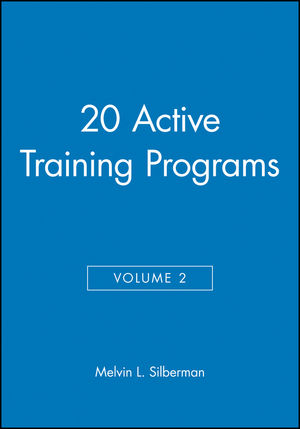 Increase transfer of learning of almost any skill or topic you need to address with these 60 ready-to-use experiential training designs. Each cost-effective design includes everything you need to design and conduct a workshop—objectives, instructions, reproducible handouts, and lists of resources.
You'll get 60 complete training designs that:
Incorporate experiential techniques to ensure transfer of learning
Save hours normally spent in design and preparation
Save money with easily reproducible handouts and forms
Order your copy today!
See More
Volume Two.

Active Training Techniques.

On the Job Training.

Personal Effectiveness.

Goal Setting.

New Employee Orientation.

Consultative Selling.

Leadership in a Total Quality Organization.

Process Improvement.

Delegation.

Ethics and Business.

Sexual Harassment.

AIDS in the Workplace.

Accommodating Disabled Workers.

Substance Abuse in the Workplace.

Microsoft Windows.

Maximizing Business.

Computers.

Taking Initiative.

Successful Telephone Skills.

Employee Literacy Problems.

Mentoring.
See More