BSAVA Manual of Wildlife Casualties
ISBN: 978-0-905214-63-4
Paperback
250 pages
June 2003
US $157.99

Add to Cart
This price is valid for United States. Change location to view local pricing and availability.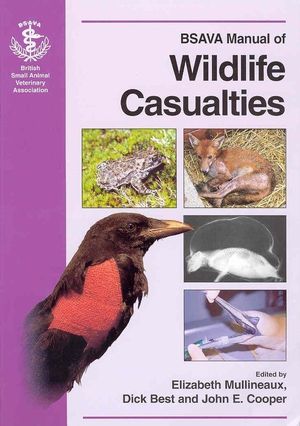 List of contributors.

Foreword.

Preface.

1. Introduction: Wildlife causalities and the veterinary surgeon (James K.Kirkwood).

2. Basic principles of treating wildlife casualties (Dick Best and Elizabeth Mullineaux).

3. Rehabilitation and release (Paul Llewellyn).

4. Principles of clinical; pathology and post-mortem examinations (John E. Cooper).

5. The law affecting British wildlife casualties (Margaret E. Cooper).

6. Hedgehogs (Steven Bexton and Ian Robinson).

7. Squirrels (Anthony W. Sainsbury).

8. Other insectivores and rodents (Richard Saunders).

9. Bats (Andrew Routh).

10. Rabbits and hares (Frances Harcourt-Brown and Katherien Whitwell).

11. Badgers (Elizabeth Mullineaux).

12. Otters (Victor R. Simpson and Michael A. King).

13. Other Mustelids (John E. Cooper).

14. Wildcats (Dick Best).

15. Foxes (Matthew G.I. Brash).

16. Deer (Peter Green).

17. Marine mammals (James Barnett and Ian Robinson).

18. Seabirds: gulls, auks, gannets, petrels (Emma Keeble).

19. Wading birds, including herons (Dick Best and Becki Lawson).

20. Waterfowl: Swans, geese, ducks, grebes and divers (Stephen W. Cooke).

21. Crakes and rails - coot and moorhen (Dick Best).

22. Birds of Prey (Neil A. Forbes).

23. Gamebirds (John R. Chitty).

24. Pigeons and doves (John R. Chitty).

25. Small birds (Dick Best).

26. Reptiles, amphibians and fish (John E. Cooper).

Appendix 1. Avian formulary.

Appendix 2. Useful addresses.

Appendix 3. Common and scientific names.

Glossary.

Index.