E-book
Project Manager's Spotlight on Change Management
ISBN: 978-1-118-00021-2
145 pages
September 2010, Jossey-Bass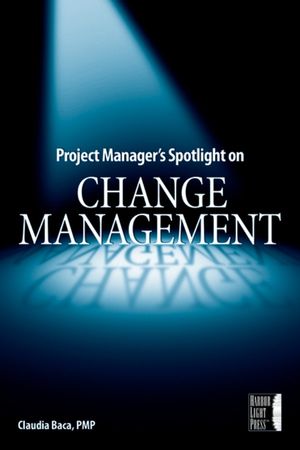 Clear-Cut Ways to Manage Inevitable Project Changes
If you're a typical project manager, you're probably aware of the importance of change management but may not have the time or expertise to develop a full-blown plan. Here's a quick and practical guide to applying the disciplines of proven change management practices without the rigor of complex processes.
Part of the Project Manager's Spotlight series from Harbor Light Press, this straightforward book offers solutions to real-life project change scenarios. Author Claudia Baca highlights critical components of change control and equips you with tools, techniques, checklists, and templates you can put to use immediately. By following a realistic case study from start to finish, you'll see how a project manager deals with each concept. Ultimately, this book will help you establish effective guidelines for dealing with change and provide you the flexibility to minimize disruptions and derailments.
Project Manager's Spotlight on Change Management teaches you how to:
Define roles and responsibilities of the change management team
Build a process flow one step at a time
Design your own change management system
Process exceptions and escalations
Create the necessary documentation
See More
Foreword ix
Acknowledgments x
Introduction xi
Chapter 1: Managing Project Change 1
Change Management Defined 1
Why Bother with Change Management? 2
Let's Set Some Context 4
Case Study 10
Chapter 2: Setting Up for Success 15
The Roles of Change Management 15
What Do We Control? 21
Timing Is Everything 23
Case Study 28
Chapter 3: The Process of Change Management 33
Designing Your System 33
A Few More "To Dos" 40
Case Study 43
Chapter 4: The Output of Change Management 47
Now What? 47
Yes, the Triple Constraints Are Impacted 49
The Board Denies the Change 51
The Board Approves the Change 52
The Triple Constraints Are Not Impacted 54
The Project Manager Denies the Change Request 56
The Project Manager Approves the Change Request 57
Process Review 59
Exceptions 62
Escalations 63
Case Study 65
Chapter 5: The Incremental Effect 71
The Theory of Disruptions 72
The Theory of Timing 81
The Theory of Estimating Change Requests 83
Case Study 85
Chapter 6: Change Tracking 89
Documenting a Change Request 89
Logistics 98
Making a Change Request Log 100
Finishing Up 103
Case Study 105
Appendix A: Nine Knowledge Areas Refresher 111
Appendix B: Change Management Templates. 123
Appendix C: Calculating the Critical Path 129
Glossary 135
Index 141
See More
Claudia Baca, PMP, is co-author of the PMP Workbook and has tech edited several Sybex PMP books. Claudia is VP of Professional Services at QuantumPM Consulting and is a PM instructor at Colorado State University.
See More