E-book
Project Manager's Spotlight on Planning
ISBN: 978-1-118-00023-6
208 pages
July 2015, Jossey-Bass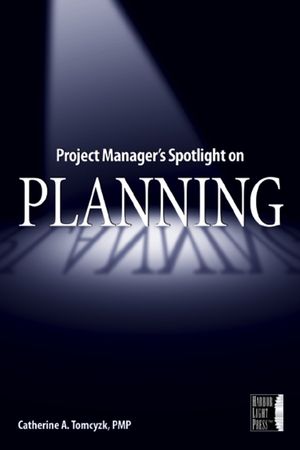 Clear-Cut Ways to Manage Project Planning
If you're a typical project manager, you're probably aware of the importance of planning but may not have the time or expertise to develop a full-blown strategy. Here's a quick and practical guide to applying the disciplines of proven planning practices without the rigor of complex processes.
Part of the Project Manager's Spotlight series from Harbor Light Press, this straightforward book offers solutions to real-life planning scenarios. Author Catherine Tomczyk highlights critical components of project planning and equips you with tools, techniques, checklists, and templates you can put to use immediately. By following a realistic case study from start to finish, you'll see how a project manager deals with each task. Ultimately, this book will help you accurately estimate time and resource requirements, enabling you to implement successful projects.
Project Manager's Spotlight on Planning teaches you how to
Define project objectives, goals, scope, and requirements
Draft plans to manage risk, quality, and procurement
Build your dream team
Finalize estimates and budgets
Create the project schedule
And much more!
See More
Foreword ix
Acknowledgments x
Introduction xiii
Chapter 1 Initiating the Project Plan 1
Small vs Large Projects 1
Initiating a Project 3
Drafting the Project Plan 12
Chapter 2 Defining Project Objectives, Goals, Scope, and Requirements 21
Setting Project Objectives and Goals 22
Defining Project Goals 25
Delineating Scope 33
Requirements 35
Case Study 39
Chapter 3 Defining Your Risk Management Plan 43
Planning for Risk Management 43
Creating a Risk Response Plan 45
Case Study 52
Chapter 4 Drafting Your Dream Team 55
Identifying Your Organization 56
Team Composition 58
Defining Skills 60
Negotiating for Your Team 62
Team Development Stages 63
Project Hiring 66
Defining Team Roles and Responsibilities 67
Project Communication 71
Case Study 77
Chapter 5 Finalizing Estimates and Budgets 81
Building a Bottom-Up Estimate 81
Performing an Estimate Analysis 89
Creating the Project Budget 94
Case Study 98
Chapter 6 Creating the Project Schedule 103
Introducing Activity Sequencing 103
Estimating Activity Durations 104
Defining Activity Precedence 106
Developing the Schedule 108
Seeing How We Really Do It 115
Case Study 118
Chapter 7 Defining Your Quality Management Plan 123
Implementing Quality Processes 124
Using Quality Resources 126
Creating a Quality Management Plan 135
Case Study 136
Chapter 8 Defining the Procurement Management Plan 139
Purchasing Goods and Services 139
Knowing When Should You Use an Attorney 144
Case Study 148
Chapter 9 Formalizing the Plan 151
Creating the Project Kickoff Meeting Agenda 151
Facilitating the Kickoff Meeting 154
Case Study 158
Appendix A Nine Knowledge Areas Refresher 161
Project Management Process Groups 161
Project Management Knowledge Areas 167
Appendix B Project Planning Templates 173
Glossary 193
Index 201
See More
Catherine A. Tomczyk, PMP has 25 years of experience managing projects and developing highly motivated teams. She currently serves as project manager for First Data Corporation.
See More