E-book
The English Teacher's Survival Guide: Ready-To-Use Techniques and Materials for Grades 7-12, 2nd Edition
ISBN: 978-1-118-00137-0
336 pages
January 2011, Jossey-Bass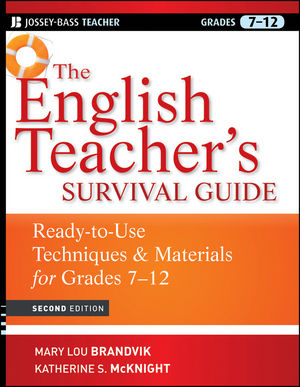 Problem-solving techniques for all aspects of the English teacher's job
This unique time-saving book is packed with tested techniques and materials to assist new and experienced English teachers with virtually every phase of their job from lesson planning to effective discipline techniques. The book includes 175 easy-to-understand strategies, lessons, checklists, and forms for effective classroom management and over 50 reproducible samples teachers can adopt immediately for planning, evaluation, or assignments. It is filled with creative and functional ideas for reading response activities, writing assignments, group and individual projects, and speeches.
Offers instructions for creating and implementing an effective classroom-wide behavior management program
Shows how to practice the art of teaching English effectively and reduce time on labor intensive tasks
Reveals how to work effectively with parents, colleagues, substitute teachers, administrators, and community resources
The second edition includes coverage of technology in the classroom, advice for working with reluctant readers, a wealth of sample teaching units and more.
See More
About This Resource.
About the Authors.
Chapter 1: Beginning the School Year.
Designing a Lesson for Day One.
Learning Still More About Your Students.
Helping Students to Know one Another.
Chapter 2: Managing Your Classroom.
Arranging the Room.
Planning for Books, Paper, and Equipment.
Planning an Efficient Classroom.
Devising a Fair Grading System.
Chapter 3: Creating a Master Plan, Individual Units, and Daily Lessons.
Designing a Year-long Course.
Planning Teaching Units.
Creating Daily Lesson Plans.
Team Planning and Teaching.
Planning for Mainstreamed Students.
Chapter 4: Designing, Monitoring, and Grading Cooperative Learning Activities.
Designing Group Activities.
Monitoring and Evaluating Cooperative Group Work.
Grading Cooperative Group Projects.
Chapter 5: Teaching Writing.
Teaching the Writing Process.
Managing Your Writing Classroom.
Using Mini-Lessons.
Sharing Student Writing: Presenting and Publishing.
Evaluating and Grading Student Writing.
Designing Assignments for a Variety of Formats.
Chapter 6: Teaching Reading and Literature.
Approaches to the Teaching of Literature.
Selecting Texts for Student Readers.
Planning for Readers' Responses.
Evaluating, Testing, Grading.
Chapter 7: Teaching Listening and Speaking.
Teaching Listening.
Conversing with one Person.
Conversing in Small Croups.
Conversing in Large Croups.
Presenting Individual Speeches.
Chapter 8: Using Technology and Media in the Classroom.
The Role of Technology and Media in the Lives of our Students in the 21st Century.
What is Media Literacy?
Types of Media.
Re-Creating Media Literacy.
Chapter 9: Working with Others.
Working with Parents.
Working with Teachers and Administrators.
Working with Community Resources.
Chapter 10: Avoiding Burnout: Becoming a More Effective Teacher.
Staying Healthy and Fit.
Becoming a More Effective Teacher.
Appendix A: Sample Unit Plans.
Appendix B: Twenty Assessment Suggestions: Going Beyond the Quiz, Test, and Essay.
Appendix C: 30 Strategies for Differentiated Instruction in the middle school and high school English Classroom.
Appendix D: Young Adult Literature Titles.
Appendix E: Websites and Resources for Teachers.
References.
Index.
See More
Mary Lou Brandvik
, a former Teacher of the Year, has taught English in public schools and at the university level. In 1991 she received the Lila B. Wallace Teacher-Scholar Award from the National Endowment for the Humanities. Her previous books include
Writing Process Activities Kit
.
Katherine S. McKnight, Ph.D. has been a literacy educator for over 20 years. A former high school English teacher, she is currently associate professor of secondary education at National-Louis University and a national consultant for National Council of Teachers of English. She is the author of The Teacher's Big Book of Graphic Organizers, also from Jossey-Bass.
See More