Reinventing Professional Services: Building Your Business in the Digital Marketplace
ISBN: 978-1-118-00190-5
240 pages
June 2011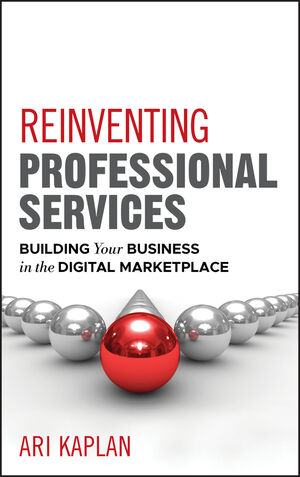 How engaging technology and relationships can help you stand out, attract business and achieve a more dynamic professional life
The technological landscape has reshaped the way white collar workers cultivate and promote their businesses. The Transformation of Professional Services is an engaging look at how licensed experts are adapting to today's dynamic economic environment.
From Ari Kaplan—a recognized advisor on business and career development— Reinventing Professional Services: Building Your Business in the Digital Marketplaceoffers insights on taking advantage of enterprising techniques to stand out and position one's self as an insightful chameleon rather than as an isolated purveyor of facts and figures.
Details the importance of offering resources instead of simply selling

Reveals strategies for increasing one's searchability and distinguishing one's self in an economic downturn or recovery

Offers advice readers can immediately use to strengthen client relationships
Written in a straightforward and accessible style, this book provides engaging guidance for anyone in the professional services field—from business consultants, financial advisers, and lawyers to accountants, real estate brokers, and appraisers.
See More
Introduction: The Rise of the White Collar Hustler and Your Path to Practical Innovation.
Chapter 1: Finding Your Way in a More Informal, Instant World.
Chapter 2: Innovators Adapt, and You Should Too.
Chapter 3: Recognize the Resiliency Revolution and Join it to Grow Your Practice.
Chapter 4: Students Have Everything to Gain from the White Collar Hustle.
Chapter 5: Know Your Clients and Patients Because They Expect You To.
Chapter 6: Putting Your Practice through a Wind Tunnel Will Blow You Away.
Chapter 7: It's a Small Street, So Befriend Your Neighbors.
Chapter 8: Networking is Dead; Long Live Networking.
Chapter 9: Proactive Professionals Pay Attention to Progress.
Chapter 10: When You're Allergic to Wool, Wear Cotton or Suffer for Your Entire Career.
Chapter 11: Meet Your Clients and Patients Directly.
Chapter 12: Mailing Lists, the Media, and Making Mistakes.
Chapter 13: Forget Technology, Remember Others to Build True Relationships.
Chapter 14: The Foundation for Follow-Up is Easy to Establish.
Conclusion: Cultivating Community
Resources.
Acknowledgments.
About the Author.
Index.
See More
Ari Kaplan
is a business strategist who spent nearly nine years practicing law with large firms in New York City. He provides copywriting services, as well as training on communications, career growth, business development, publishing and networking. Mr. Kaplan is the author of a book on standing out and creating opportunity. He has appeared on CNN, been featured in a variety of newspapers nationwide, and has written more than two hundred articles for a wide range of national and international publications.
Learn more at AriKaplanAdvisors.com and ReinventingProfessionals.com.
See More