Oxidative Stress in Vertebrates and Invertebrates: Molecular Aspects of Cell Signaling
ISBN: 978-1-118-00194-3
424 pages
December 2011, Wiley-Blackwell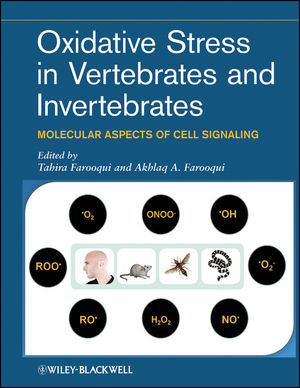 This volume presents a unique comparative treatment of the role oxidative stress plays in vertebrates and invertebrates in multiple organ systems with regards to cell death, development, aging, and human diseases, and anti-oxidant therapy. It offers comprehensive reviews of the current understanding of oxidative stress-mediated physiology and pathology as well as directions for future research. It also provides current information on the role of oxidative stress in neurodegenerative diseases, cardiovascular diseases, and various types of cancer mediated by oxidative stress.
See More
PREFACE xi
Tahira Farooqui and Akhlaq A. Farooqui
FOREWORD xiii
Grace Y. Sun
ACKNOWLEDGMENTS xv
Tahira Farooqui and Akhlaq A. Farooqui
CONTRIBUTORS xvii
PART I OXIDATIVE STRESS IN VERTEBRATES
1 Generation of Reactive Oxygen Species in the Brain: Signaling for Neural Cell Survival or Suicide 3
Akhlaq A. Farooqui
2 Free Radicals, Signal Transduction, and Human Disease 17
Klaudia Jomova and Marian Valko
3 Oxidative Stress and its Biochemical Consequences in Mitochondrial DNA Mutation-Associated Diseases: Implications of Redox Therapy for Mitochondrial Diseases 33
Shi-Bei Wu, Yu-Ting Wu, Yi-Shing Ma, and Yau-Huei Wei
4 Oxidative Stress in Kainic Acid Neurotoxicity: Implications for the Pathogenesis of Neurotraumatic and Neurodegenerative Diseases 51
Akhlaq A. Farooqui
5 Survival Strategy and Disease Pathogenesis According to the Nrf2-Small Maf Heterodimer 63
Masanobu Morita and Hozumi Motohashi
6 Caloric Restriction and Oxidative Stress 83
Jan Škrha
7 Pathogenesis of Neurodegenerative Diseases: Contribution of Oxidative Stress and Neuroinflammation 103
Tahira Farooqui and Akhlaq A. Farooqui
8 Neurosteroids in Oxidative Stress-Mediated Injury in Alzheimer Disease 117
Amandine Grimm, Ayikoe Guy Mensah-Nyagan, and Anne Eckert
9 Oxidative Stress in Adult Neurogenesis and in the Pathogenesis of Alzheimer Disease 129
Philippe Taupin
10 Oxidative Stress and Parkinson Disease 139
Kah-Leong Lim, Doyle Graham, and Xiao-Hui Ng
11 Oxidative Stress in Cardiovascular Diseases 153
Michael E. Andrades and Rodrigo Lorenzi
12 Oxidative Stress and Aging: A Comparison between Vertebrates and Invertebrates 167
Syed Ibrahim Rizvi and Kanti Bhooshan Pandey
13 Oxidative Stress-Mediated Signaling Pathways by Environmental Stressors 175
Hideko Sone and Hiromi Akanuma
14 Selenoproteins in Cellular Redox Regulation and Signaling 195
Arjun V. Raman and Marla J. Berry
15 Antioxidant Therapy and its Effectiveness in Oxidative Stress-Mediated Disorders 209
Tommaso Iannitti and Beniamino Palmieri
16 The Protective Role of Grape Seed Polyphenols Against Oxidative Stress in Treating Neurodegenerative Diseases 235
Giulio Maria Pasinetti
17 Pharmacological and Therapeutic Properties of Propolis (Bee Glue) 245
Kandangath Raghavan Anilakumar, Farhath Khanum, and Amarinder Singh Bawa
PART II OXIDATIVE STRESS IN INVERTEBRATES
18 Endocrine Control of Oxidative Stress in Insects 261
Natraj Krishnan and Dalibor Kodri´k
19 Oxidative Stress in the Airway System of the Fruit Fly Drosophila melanogaster 271
Thomas Roeder
20 Molecular Mechanisms of Antioxidant Protective Processes in Honeybee Apis mellifera 279
Alexey G. Nikolenko, Elena S. Saltykova, and Louisa R. Gaifullina
21 Molecular Basis of Iron-induced Oxidative Stress in the Honeybee Brain: A Potential Model System of Olfactory Dysfunction in Neurological Diseases 295
Tahira Farooqui
22 Modulation of Oxidative Stress by Keap1/Nrf2 Signaling in Drosophila: Implications for Human Diseases 309
Gerasimos P. Sykiotis, M. Mahidur Rahman, and Dirk Bohmann
23 Orchestration of Oxidative Stress Responses in Drosophila melanogaster: A Promoter Analysis Study of Circadian Regulatory Motifs 327
Kuntol Rakshit and Natraj Krishnan
24 The Protective Role of Sestrins Against Chronic TOR Activation and Oxidative Stress 337
Jun Hee Lee and Ethan Bier
25 Current Advances in the Studies of Oxidative Stress and Age-Related Memory Impairment in C. elegans 347
Shin Murakami, Kelly Cabana, and Danielle Anderson
26 Oxidative Challenge and Redox Sensing in Mollusks: Effects of Natural and Anthropic Stressors 361
Julie Letendre, Franc¸ois Leboulenger, and Fabrice Durand
27 Perspective and Directions for Future Studies 377
Tahira Farooqui and Akhlaq A. Farooqui
INDEX 385
See More
TAHIRA FAROOQUI
has published extensively on drug receptor interactions, biogenic amines in vertebrate and invertebrate nervous systems, glycerophospholipid and sphingolipid metabolism, and molecular mechanisms in the brain, as well as on the neuromodulatory role of octopamine in the reinforcement pathway involved in olfactory learning and memory.
AKHLAQ A. FAROOQUI is a leader in the fields of signal transduction, brain phospholipase A2, bioactive ether lipid metabolism, and polyunsaturated fatty acid metabolism, among others. Farooqui has published on the generation and identification of glycerophospholipid-, sphingolipid-, and cholesterol-derived lipid mediators in kainic acid-mediated neurotoxicity by lipidomics.
See More
Buy Both and Save 25%!
Oxidative Stress in Vertebrates and Invertebrates: Molecular Aspects of Cell Signaling (US $175.95)
-and- Immunology: Mucosal and Body Surface Defences (US $93.95)
Total List Price: US $269.90
Discounted Price: US $202.42 (Save: US $67.48)
Cannot be combined with any other offers. Learn more.