E-book
Chemical Process Simplification: Improving Productivity and Sustainability
ISBN: 978-1-118-00209-4
282 pages
February 2012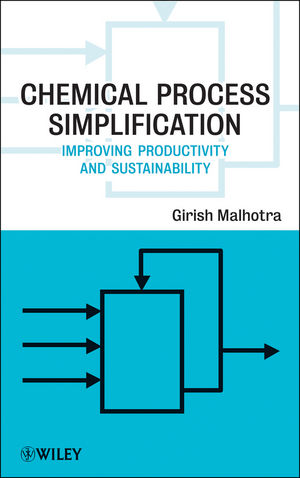 While emphasizing conservation and sustainable strategies, this book provides steps to improve the manufacturing technologies used in creating products. By simplifying the chemistry, process development, manufacturing practices and processes, the book provides a structured approach to producing quality products with little waste, making the process not only efficient but environmentally friendly. Illustrated with case studies, this is an essential resource for chemical engineers, chemists, plant engineers, and operating personnel in any chemical related businesses.
See More
Preface xiii 
1 Process Simplification: Basic Guidelines 1 
2 Process Solutions 9 
3 Commonalities of Businesses 53 
4 Laboratory Process Development 77 
5 Mass and Heat Balance 95 
6 Reaction Kinetics 111 
7 Physical Properties 123 
8 Combination of Heat, Mass Balance, and Physical Properties 135 
9 Cross-Fertilization of Technologies 159 
10 Scale-up to Commercialization 171 
Appendix A: Ideas and Observations from the Author 189 
Appendix B: Related Articles by the Author 231 
Index 279 
See More
Girish Malhotra is currently the President of EPCOT International, a privately held consulting firm that improves manufacturing efficiencies in a wide range of businesses, from fine chemicals and pharmaceuticals toresins and coatings. His methods have increased efficiency and reduced costs at numerous companies. He has published many articles in a wide range of publications including Chemical Processing, Pharmaceutical Processing, and Chemical Engineering Progress, and has been extensively quoted in Chemical Week.
See More