E-book
Advanced Kalman Filtering, Least-Squares and Modeling: A Practical Handbook
ISBN: 978-1-118-00316-9
E-book
640 pages
March 2011
US $129.99

Purchase This E-book
This price is valid for United States. Change location to view local pricing and availability.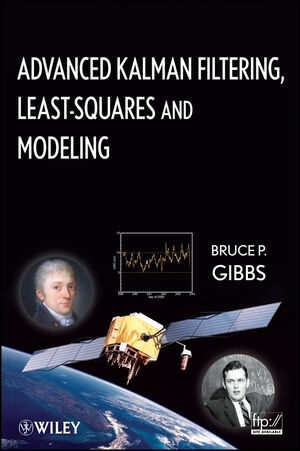 Adobe e-books are read using Adobe Digital Editions. Install Adobe Digital Editions on your PC in order to read or transfer your e-book.
PREFACE.
1 INTRODUCTION.
1.1 The Forward and Inverse Modeling Problem.
1.2 A Brief History of Estimation.
1.3 Filtering, Smoothing, and Prediction.
1.4 Prerequisites.
1.5 Notation.
1.6 Summary.
2 SYSTEM DYNAMICS AND MODELS.
2.1 Discrete-Time Models.
2.2 Continuous-Time Dynamic Models.
2.3 Computation of State Transition and Process Noise Matrices.
2.4 Measurement Models.
2.5 Simulating Stochastic Systems.
2.6 Common Modeling Errors and System Biases.
2.7 Summary.
3 MODELING EXAMPLES.
3.1 Angle-Only Tracking of Linear Target Motion.
3.2 Maneuvering Vehicle Tracking.
3.3 Strapdown Inertial Navigation System (INS) Error Model.
3.4 Spacecraft Orbit Determination (OD).
3.5 Fossil-Fueled Power Plant.
3.6 Summary.
4 LINEAR LEAST-SQUARES ESTIMATION: FUNDAMENTALS.
4.1 Least-Squares Data Fitting.
4.2 Weighted Least Squares.
4.3 Bayesian Estimation.
4.4 Probabilistic Approaches—Maximum Likelihood and Maximum A Posteriori.
4.5 Summary of Linear Estimation Approaches.
5 LINEAR LEAST-SQUARES ESTIMATION: SOLUTION TECHNIQUES.
5.1 Matrix Norms, Condition Number, Observability, and the Pseudo-Inverse.
5.2 Normal Equation Formation and Solution.
5.3 Orthogonal Transformations and the QR Method.
5.4 Least-Squares Solution Using the SVD.
5.5 Iterative Techniques.
5.6 Comparison of Methods.
5.7 Solution Uniqueness, Observability, and Condition Number.
5.8 Pseudo-Inverses and the Singular Value Transformation (SVD).
5.9 Summary.
6 LEAST-SQUARES ESTIMATION: MODEL ERRORS AND MODEL ORDER.
6.1 Assessing the Validity of the Solution.
6.2 Solution Error Analysis.
6.3 Regression Analysis for Weighted Least Squares.
6.4 Summary.
7 LEAST-SQUARES ESTIMATION: CONSTRAINTS, NONLINEAR MODELS, AND ROBUST TECHNIQUES.
7.1 Constrained Estimates.
7.1.1 Least-Squares with Linear Equality Constraints (Problem LSE).
7.1.2 Least-Squares with Linear Inequality Constraints (Problem LSI).
7.2 Recursive Least Squares.
7.3 Nonlinear Least Squares.
7.4 Robust Estimation.
7.5 Measurement Preprocessing.
7.6 Summary.
8 KALMAN FILTERING.
8.1 Discrete-Time Kalman Filter.
8.2 Extensions of the Discrete Filter.
8.3 Continous-Time Kalman-Bucy Filter.
8.4 Modifi cations of the Discrete Kalman Filter.
8.5 Steady-State Solution.
8.6 Wiener Filter.
8.7 Summary.
9 FILTERING FOR NONLINEAR SYSTEMS, SMOOTHING, ERROR ANALYSIS/MODEL DESIGN, AND MEASUREMENT PREPROCESSING.
9.1 Nonlinear Filtering.
9.2 Smoothing.
9.3 Filter Error Analysis and Reduced-Order Modeling.
9.4 Measurement Preprocessing.
9.5 Summary.
10 FACTORED (SQUARE-ROOT) FILTERING.
10.1 Filter Numerical Accuracy.
10.2 U-D Filter.
10.3 Square Root Information Filter (SRIF).
10.4 Inertial Navigation System (INS) Example Using Factored Filters.
10.5 Large Sparse Systems and the SRIF.
10.6 Spatial Continuity Constraints and the SRIF Data Equation.
10.7 Summary.
11 ADVANCED FILTERING TOPICS.
11.1 Maximum Likelihood Parameter Estimation.
11.2 Adaptive Filtering.
11.3 Jump Detection and Estimation.
11.4 Adaptive Target Tracking Using Multiple Model Hypotheses.
11.5 Constrained Estimation.
11.6 Robust Estimation: H-Infinity Filters.
11.7 Unscented Kalman Filter (UKF).
11.8 Particle Filters.
11.9 Summary.
12 EMPIRICAL MODELING .
12.1 Exploratory Time Series Analysis and System Identification.
12.2 Spectral Analysis Based on the Fourier Transform.
12.3 Autoregressive Modeling.
12.4 ARMA Modeling.
12.5 Canonical Variate Analysis.
12.6 Conversion from Discrete to Continuous Models.
12.7 Summary.
APPENDIX A SUMMARY OF VECTOR/MATRIX OPERATIONS.
APPENDIX B PROBABILITY AND RANDOM VARIABLES.
BIBLIOGRAPHY.
INDEX.