E-book
Lighting Digital Field Guide
ISBN: 978-1-118-00395-4
304 pages
October 2010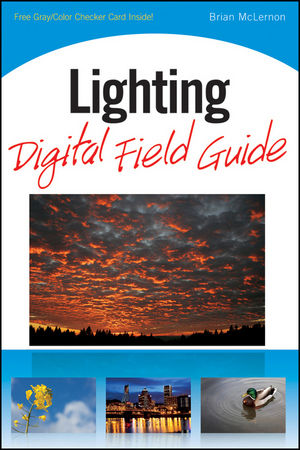 Essential lighting guide for users of compact cameras and dSLRs
One of the most important aspects of photography is lighting, but getting the lighting right is tricky.  When should you use flash? Are a camera's automatic settings dependable? Should you use reflectors or diffusers and where do you place them? This handy, portable reference will show you when, where, and how to create and capture perfect light, every time. The book includes a color checker card to help you maintain true color, as well as examples of stunningly-lit photos of people, wildlife, and landscapes to inspire you.
Walks you through the essentials of lighting for digital photography
Helps beginning and intermediate photographers leave the safety of automatic settings and confidently control lighting themselves
Shows how to evaluate natural light, decide when to use flash, and how and when to use diffusers or reflectors
Includes a tear-out color checker card to help you maintain true color in your photographs
Comes in the handy, portable Digital Field Guides size, perfect for camera bags
Create and capture the perfect lighting every time, with Lighting Digital Field Guide!
See More
Introduction.
CHAPTER 1: Understanding Light.
CHAPTER 2: Camera Controls of Light.
CHAPTER 3: Controlling the Light with Shutter Speed.
CHAPTER 4: Controlling the Light with Aperture.
CHAPTER 5: Working with Flash.
CHAPTER 6: Working with Speedlights.
CHAPTER 7: Lighting Equipment.
CHAPTER 8: Action and Sports Photography.
CHAPTER 9: Concert and Event Photography.
CHAPTER 10: Landscape and Nature Photography.
CHAPTER 11: Night and Low-Light Photography.
CHAPTER 12: Portrait Photography.
CHAPTER 13: Still Life and Product Photography.
CHAPTER 14: Wedding Photography.
CHAPTER 15: Wildlife and Pet Photography.
APPENDIX A: Rules of Composition.
APPENDIX B: Resources.
APPENDIX C: How to Use the Gray Card and Color Checker.
Glossary.
Index.
See More
Brian McLernon is a commercial freelance photographer, educator, and writer based in Portland, Oregon. Originally from New Jersey and educated in Arizona, Philadelphia, and New York City, he shoots primarily for editorial, commercial, corporate, and lifestyle clients. He is the author of three previous Digital Field Guides, the Canon EOS 5D Mark II Digital Field Guide, the Canon Speedlite System Digital Field Guide, and the Canon PowerShot G11 Digital Field Guide.
See More