The Business of Investment Banking: A Comprehensive Overview, 3rd Edition
ISBN: 978-1-118-00449-4
384 pages
November 2011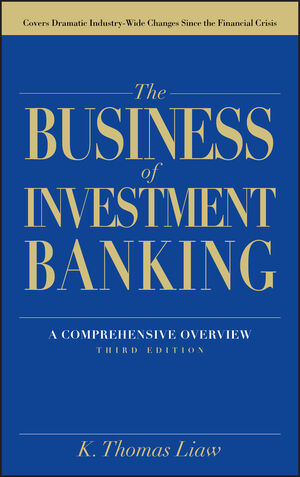 A comprehensive overview of investment banking for professionals and students
The investment banking industry has changed dramatically since the 2008 financial crisis. Three of the top five investment banks in the United States have disappeared, while Goldman Sachs and Morgan Stanley have converted to commercial banking charters. This Third Edition of The Business of Investment Banking explains the changes and discusses new opportunities for students and professionals seeking to advance their careers in this intensely competitive field.
The recent financial regulation overhaul, including the Dodd-Frank legislation, is changing what investment banks do and how they do it, while the Volcker rule has shaken up trading desks everywhere.
This new edition updates investment banking industry shifts in practices, trends, regulations, and statistics
Includes new chapters on investment banking in BRIC countries, as Brazil, Russia, India, and China now account for a quarter of the global economy
Explains the shift in the listing of securities away from New York to various financial centers around the world, and how major exchanges compete for the same business
This new edition, reflecting the current state of the investment banking industry, arrives in time to better serve professionals wanting to advance their careers and students just beginning theirs.
See More
Chapter 1
Introduction to Investment Banking: How the Financial Crisis and Reforms Changed the Industry 1
Chapter 2
New Investment Banking Structure: Financial Holding Companies, Full-Service, and Boutique Investment Banks 9
Chapter 3
The Structure of Investment Banks: Divisions and Services 21
Chapter 4
Investment Banking Strategies: How They Compete and Profit 37
Chapter 5
Employment Opportunities in Investment Banking 49
Chapter 6
Venture Capital and Private Equity: Direct Investing in Companies 77
Chapter 7
Mergers and Acquisitions 99
Chapter 8
Equity Underwriting and IPOs 117
Chapter 9
Debt Underwriting: Issuing Bonds 141
Chapter 10
Asset Securitization: Turning Income Streams into New Investment Vehicles 173
Chapter 11
Listing in New York, London, and Other Markets 195
Chapter 12
Trading: Market Making, Arbitrage, and Brokering 213
Chapter 13
Repurchase Agreements and Prime Brokerage 237
Chapter 14
Derivatives and Financial Engineering: Foreign Exchange, Commodities, and Interest Rates 257
Chapter 15
Investment Management for Pension Funds, Endowments, and Wealthy Families 279
Chapter 16
Securities Regulation and Ethics: The Dodd-Frank Bill and Other Key Laws 297
Chapter 17
The BRICs: Investment Banking in Brazil, Russia, and India 323
Chapter 18
The BRICs: Investment Banking in China 339
Chapter 19
Investment Banking Trends and Challenges 359
Index 367
See More
K. Thomas Liaw, PhD, is a Professor of Finance at St. John's University. He has published several books, including Capital Markets; The Irwin Guide to Stocks, Bonds, Futures, and Options; and Investment Banking and Investment Opportunities in China. He has published articles in the areas of mergers and acquisitions, banking, swaps, repurchase agreements, and market risks. His consulting practice specializes in investment management and securities business, and he speaks on the subjects of investment banking and capital markets at corporate programs. Professor Liaw earned his doctoral degree from Northwestern University.
See More