The Philanthropic Planning Companion: The Fundraisers' and Professional Advisors' Guide to Charitable Gift Planning
ISBN: 978-1-118-00454-8
464 pages
June 2012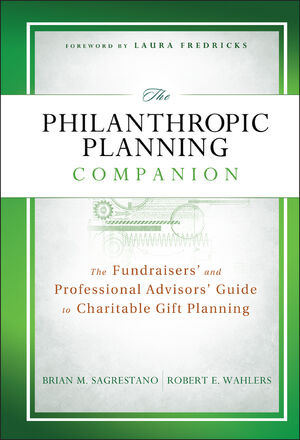 A donor-centered guide to charitable gift planning for fundraisers and professional advisors
The Philanthropic Planning Companion compiles and analyzes the latest research on donor/client behavior, discussing the need for segmented approaches to charitable gift planning based upon the values and personal planning objectives of the donor/client. With its many tools, checklists and sample materials, it will serve as your charitable giving guide in your work with your donors/clients. Whether you are building your practice to work with high net worth clients or you are enhancing your fundraising program, this is the book you will keep close at hand.
Outlines how an integrated, donor-centered, values-based, philanthropic planning approach can be implemented
Explores the latest research focuses on donor behavior
For fundraisers and professional advisors alike, The Philanthropic Planning Companion is the one-stop resource you'll keep by your side to help your donors/clients meet their charitable and personal planning objectives.
See More
Foreword xvii
Preface xix
The Role of Philanthropic Planning xx
Our Approach xx
Using the Companion xxii
Acknowledgments xxv
From Brian M. Sagrestano xxv
From Robert E. Wahlers xxviii
PART I THE EMERGENCE OF PHILANTHROPIC PLANNING 1
CHAPTER 1 The Changing Fundraising Marketplace 3
The Evolution from Deferred Giving to Philanthropic Planning 4
In Summary 8
CHAPTER 2 The New Philanthropists 9
Defining Generations 10
Traditionalists (Born Pre-1946) 11
Depression Cohort (1912 to 1921) 11
World War II Cohort (1922 to 1927) 13
Post-War Cohort (1928 to 1945) 15
Transitioning 16
The New Philanthropists (Born 1946 to Present) 17
Older Boomers/Leading Boomers Cohort (1946 to 1954) 17
Younger Boomers/Trailing Boomers Cohort (1955 to 1964) 21
Generation X/Baby Busters Cohort (1965 to 1976) 24
Millennials/Generation Y/Generation Next/Echo Boomers Cohort (1977 to 1984?) 27
Emergence of the ''Great Recession'' Generation? 32
In Summary 33
CHAPTER 3 Identifying Prospects for Philanthropic Planning 35
Prospect Motivation 35
Identifying a List of Prospects 36
In Summary 40
CHAPTER 4 Creating a Fundraising Environment for Philanthropic Planning 41
Laying the Foundation for Philanthropic Planning 41
The Internal Case for Philanthropic Planning 43
The Role of an Integrated Advancement Program 48
Annual Giving in the Philanthropic Planning Context 48
Gift Planning In the Philanthropic Planning Context 50
Infrastructure 50
Donor Interaction 51
Communication and Marketing 51
The Role of Your Board and Volunteers in Gift Planning 52
The Role of the Board and Volunteers in Philanthropic Planning 57
In Summary 60
CHAPTER 5 The Role of Professional Advisors 61
Roles of Professional Advisors in the Philanthropic Planning Process 61
Dispelling the Myths: Competing or Completing 63
How Professional Advisors Can Promote Philanthropic Planning 64
Would Advisors Benefit from Specialized Training in Charitable Planning? 66
Methods for Fundraisers to Engage and Partner with Professional Advisors 67
Does an Advanced Degree or Certification Create Credibility with Advisors? 68
Engage Professional Advisors 69
Support Professional Advisors in Their Work 71
Steps for Fundraisers to Enhance Collaboration with Advisors 72
Create a Professional Advisors Network 74
The Role of the Professional Advisors Network 77
Measure the Success of Your Partnerships with Professional Advisors 79
Follow the Model Standards of Practice 80
In Summary 81
PART II WORKING WITH PHILANTHROPISTS 83
CHAPTER 6 Integrated Solutions for Principal Gift (Tier One) Philanthropists 85
Who Are the Principal Gift Philanthropists? 85
Unique Characteristics of High-Net-Worth Donors/Clients 86
Motivation for Giving 88
Perceptions of Philanthropy 90
Tax Considerations 92
Decisions and Distributions 92
Giving by Entrepreneurs 93
The Role of Professional Advisors 93
Utilization of Philanthropic Tools 95
Volunteering 95
Children and Values 95
Interpreting the Data 98
Building a Philanthropic Planning Model 98
Philanthropic Planning Models for Charities 99
Philanthropic Planning Models for Professional Advisors 103
Core Elements Common to All Philanthropic Planning Models 106
Defining Values 107
Assets and Exploring the Meaning of Wealth 108
Limiting Financial Inheritance 108
The Business of Being a Family 109
Communication—Family Meetings 110
Philanthropy 111
Creating a Plan 111
Collaboration among Professional Advisors, Charities, and the Family 111
The Art of Listening 114
Concierge Stewardship 115
In Summary 116
CHAPTER 7 Working with Major (Tier Two) Donors 119
Introduction to Moves Management 119
Identification/Education 120
Qualifying Prospects 121
Qualifying Visits 121
Obtaining Qualifying Visits 123
Planning for Qualifying Visits 131
Conducting Qualifying Visits 131
Following Up Qualifying Visits 132
Cultivating Prospects 133
Sharing the Charity's Mission 133
Introducing Others into the Conversation 134
Cultivation Visits 134
Understanding the Donor 136
Traditionalists (Born Pre-1946) 136
Older Boomers (Born 1946 to 1954) 136
Younger Boomers (Born 1955 to 1964) 137
Generation X (Born 1965 to 1976) 138
Millennials (Born 1977 to 1984?) 139
Soliciting Prospects 140
How the Philanthropic Planning Approach is Different from Other ''Asks'' 140
Preparing for the Solicitation Visit 142
The Pre-Solicitation Visit 142
Who Should Participate in the Solicitation Visit? 142
Scripting and Rehearsing the Solicitation 143
Asking for the Gift 144
Negotiating the Gift 144
Stewarding the Donor 145
Introduction to the Seven Touches Philosophy 146
Seven Touches 146
Perspectives of Different Generational Cohorts 148
Traditionalists 148
Older Boomers 148
Younger Boomers 148
Generation X 149
Millennials 149
Other Segments 149
The Role of Professional Advisors 150
Complex Asset Gifts 150
Bequests and Living Trusts 150
Retirement Plan Designations 151
Life Insurance 152
Charitable Remainder Trusts 152
Charitable Gift Annuities 152
In Summary 153
PART III MARKETING TO PROSPECTS AND THOSE INTERESTED IN THE MISSION 155
CHAPTER 8 Marketing on a Moves Management Platform 157
Marketing Is Not Gift Planning 159
Using Moves Management 160
Multichannel Marketing 161
Creating a Brand 166
Tracking Marketing Efforts/Measures of Success 166
Managing Costs 169
In Summary 170
CHAPTER 9 Qualifying and Educating Everyone Else 173
Make Donor-Centered Gift Planning Information
Broadly Available Through Existing Outreach 173
Existing Publications and E-Publications 174
Creating Meaningful Ads 175
Ad Topics 179
Response Mechanisms 181
Web Site 182
Properties of an Effective Gift Planning Web Site 182
Setting Up a Gift Planning Web Site 183
Design the Web Site for the Four Tiers of the Gift Planning Audience 184
Key Components to a Gift Planning Web Site 185
Driving Traffic to the Gift Planning Web Site 187
Social Media and Networking Sites 188
Multimedia 189
Webinars, Simulcasts, and Podcasts 189
Videos and Public Service Announcements 190
In Summary 190
CHAPTER 10 Cultivating Loyals and Everyone Else 191
Brochure Program 192
General Brochure 193
Personal Planning Brochures 194
Newsletter 198
Cultivation Tools to Encourage Prospects to ''Raise their Hands'' 198
Survey and Wills Kit 198
Using Volunteers 201
In Summary 201
CHAPTER 11 Soliciting Loyals 203
Postcards 204
E-mail Follow Up 207
Fulfillment Packages 208
Bequest Buck Slips 208
Use of Other Messages 210
Gift Annuity Addition Program 210
Phone Calling Program 211
In Summary 215
CHAPTER 12 Thanking, Recognizing, and Stewarding Legacy Donors 217
Annual Donors 217
Thanking Annual Donors 218
''We Don't Value Your Gift'' 218
Retention and Lapsed Donors 220
Investing In an Acknowledgement System 221
Recognizing Annual Donors 221
Stewarding Annual Donors 224
Annual Fund Buckets 225
Legacy Donors 226
Thanking Legacy Donors 227
Recognizing Legacy Donors 227
The Role of the Recognition Society 227
Stewarding Legacy Donors 232
Stewardship Events 232
Additional Materials—Multi Channel Approach 235
Volunteer Opportunities 238
Stewarding Philanthropists 239
In Summary 240
PART IV PROGRAM INFRASTRUCTURE 243
CHAPTER 13 Creating and Tracking Your Success 245
Create a Plan 245
Individual Performance Goals and Measuring Success 247
Measuring Performance 247
Individual Activity Goals 248
Philanthropic Planning Officers 248
Fundraisers 250
Gift Planning Specialists 250
Gift and Commitment Reports 251
In Summary 251
CHAPTER 14 Policies, Procedures, and Agreements 253
Gift Acceptance 253
Policies 254
Drafting a Gift Acceptance Policy 254
Procedures 259
Identify Areas That Need Procedures 259
Use Checklists 260
Define Responsibilities 260
Gift Counting and Reporting 260
PPP and CASE Standards 260
Generating Reports 261
Gift Crediting/Recognition 262
Gifts from Couples 263
Matching Gifts 263
Gift Valuation 263
Gift Agreements 266
When Is a Gift Agreement Necessary? 266
Binding or Non-Binding? 266
Types of Gift Agreements 269
Anatomy of the Gift Agreement 269
Partnering with Finance and Legal Counsel 270
Enforcing Gift Agreement Terms 270
Misuse of Restricted Funds 271
Repurposing a Restricted Fund 271
In Summary 271
CHAPTER 15 Registration 273
Registration to Solicit 273
Registration Requirements 274
Charitable Gift Annuity Registration 275
Registration to Do Business 277
Due Diligence by Advisors 277
In Summary 278
Epilogue 279
What Do I Do Next? 280
Start Today! 284
Rewards of Philanthropic Planning 284
It Is Up to You 285
Appendix A Sample Internal Case for Gift Planning—Le Moyne College 289
Appendix B Sample Internal Case for Donor-Centered Philanthropic Planning 295
Appendix C Typical Objections to Qualifying Visits 299
Appendix D Sample Qualification Visit Preparation Worksheet 305
Appendix E Qualification Visit Questions/Conversation Starters 307
Appendix F Philanthropic Planning Conversation Starters 309
Appendix G Sample Donor-Centered Gift Planning Marketing Plan 311
Appendix H Sample General Brochure—University of the Sciences 333
Appendix I 52 Ways to Steward Legacy Donors 343
Appendix J Sample Society Brochure—University of the Sciences 345
Appendix K Sample Society Reply Card—University of the Sciences 351
Appendix L Sample Plan Timeline 353
Appendix M Activities Measures Reports 361
Appendix N Sample Gift Acceptance Policy XYZ Charity 363
Appendix O Gift Counting and Reporting Policy Summary 373
Appendix P Gift Reports By Tender Type 385
Appendix Q Gift Reports By Gift Structure 391
Appendix R Sample Gift Agreement 397
Bibliography 401
Notes 407
About the Authors 417
Index 421
See More
BRIAN M. SAGRESTANO, JD, CFRE, is the President and CEO of Gift Planning Development, LLC, a gift planning consulting firm. Previously, he ran gift planning programs for the University of Pennsylvania and Middlebury College and practiced law as a trust and estates attorney. He has been published in Planned Giving Tomorrow and Planned Giving Mentor and cited in numerous publications, including the Chronicle of Philanthropy. Brian is a regular presenter at national conferences and a past board member for several organizations, including the Partnership for Philanthropic Planning.
ROBERT E. WAHLERS, MS, CFRE, is the Senior Director of Development and Gift Planning for Meridian Health. After working as a financial and estate planner, he has spent more than twenty years in the nonprofit sector with organizations like the Boy Scouts of America and American Cancer Society. He has been published in Planned Giving Mentor and has been cited in the Nonprofit Times and Advancing Philanthropy. Robert is a national board member with the Partnership for Philanthropic Planning and serves on the faculty at Columbia University for the Master of Science in Fundraising Management program.
See More
More in this series