Endgame: The End of the Debt SuperCycle and How It Changes Everything
ISBN: 978-1-118-00457-9
Hardcover
336 pages
March 2011
US $27.95

Add to Cart
This price is valid for United States. Change location to view local pricing and availability.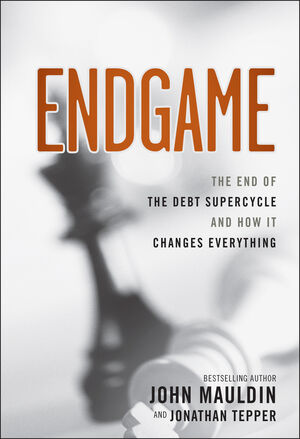 Other Available Formats:
E-book
March 22, 2011
ENDGAME: The End of the Debt Supercycle and How It Changes Everything
Connect with Wiley Publicity
Greece is a basket case, Ireland on life support, and Japan a bug in search of a windshield. In the times ahead, the global sovereign debt and credit crisis will continue to spread like wildfire. And while no nation, developed or emerging, can escape the pain, the extent of the disaster and how it plays itself out will vary from country to country. ENDGAME: The End of the Debt Supercycle and How it Changes Everything (Wiley Hardcover; March 14, 2011; 978-1-118-00457-9; $29.95; cloth), by John Mauldin and Jonathan Tepper, provides a road map through the morass.
Hundreds of books have been written about the financial crisis that engulfed the world after Lehman Brothers went bankrupt. But what if the bigger financial crisis is ahead of us, not behind us? As Mauldin and Tepper deftly illustrate, the crisis was more than a half-century in the making. The Great Financial Crisis, however, was merely Act 1. Act II has now begun.
The massive household deleveraging, and historic shift of private debt onto government balance sheets now underway, represents the end of a sixty-year global Debt Supercycle. We have now entered the Endgame, a time when bankruptcies and defaults will not be of households and companies but of governments. The coming crisis will offer policymakers few good choices and many bad ones that will require extraordinary clarity and courage from leaders.
In ENDGAME Mauldin and Tepper:
Reveal why the world economy is in for a protracted period of slow growth, high unemployment, volatile markets and persistent recessions
Describe the bad, worse, and disastrous options available to leaders tasked with avoiding a total collapse of their national economies
Review global markets, country-by-country, detailing population trends, government policies, currency outlooks, and more
Offer investors practical advice on how to protect their assets through the worst of it and profit from emerging opportunities
ENDGAME takes readers on a country-by-country tour—including the U.S., UK., European countries, and Japan—clearly explaining the problems each country faces, as well as the good and bad policy options open to each, as well as the investment pitfalls and opportunities likely to be found in each national economy.
Despite the authors' dark forecast, the message in ENDGAME is not all gloom and doom. Mauldin and Tepper lay out positive steps governments can take to weather the worst of stormy days ahead, minimize the inevitable pain and discomfort most of us can expect to experience, and chart a bold new course to sustained economic growth and prosperity.
ABOUT THE AUTHORS
John Mauldin (Dallas, TX) is the President of Millennium Wave Advisors, LLC (MWA), an investment advisory firm registered in multiple states, and is President of Millennium Wave Securities, LLC a FINRA registered broker-dealer. Mauldin is a frequent contributor to numerous publications, and guest on TV and radio shows as well as quoted widely in the press and writes a free letter on hedge funds and private offerings called the Accredited Investor E-letter to accredited investors. His free weekly e-letter, Notes from the Frontline, is read by more than a million people each week and is reprinted on numerous websites. In addition, Mauldin writes a quarterly newsletter, Accredited Investor, about hedge funds that go to a smaller group of investors. Mauldin frequently appears on CNBC, Bloomberg and other media and also speaks regularly at Money Show, Freedom Fest and other events. Mauldin is bestselling author of Bull's Eye Investing and Just One Thing.
Jonathan Tepper, (London) is the Founder and Chief Editor of Variant Perception, a macroeconomic research group that caters to hedge funds, family offices and high net worth individuals. Jonathan's background is in finance: he has worked at Lehman Brothers, SAC Capital, and Bank of America where he was a Vice President in the proprietary trading group. He is also is the founder of Demotix. Demotix is a citizen-journalism website and photo agency. It takes user-generated content (UGC) and photographs from freelance journalists and amateurs, and markets them to the mainstream media. Jonathan graduated with highest honors in History and honors in Economics from the University of North Carolina at Chapel Hill, and then went on to do his M.Litt at Oxford in Modern History where he was a Rhodes Scholar.
ENDGAME
By John Mauldin and Jonathan Tepper
Wiley/March, 2011
For more information about Wiley's books, please visit our Press Room www.wiley.com/go/press
Follow us on Twitter @WileyBiz for more information on our Business books and authors.
$29.95; 978-0-470-95090-6; Hardcover